notes and thoughts on custom guitars
by Fatdog


I'd like to present my perspective and address my philosophy on our custom instruments, hopefully to prevent any disappointments and misunderstandings.
Proletarian quality is Subway's overriding theme and focus. For over 38 years we have been assembling custom instruments at budget prices. We have liquidated partial, and entire, inventories from factories and companies of their unwanted overstock; and we have re-manufactured or cobbled together an amazing portfolio of guitars and basses.
Companies like Danelectro (the old Neptune, New Jersey operation) once sold us 4000 necks and bodies. We've also bought old stock from the Gibson Kalamazoo facility and Fender, when they closed their Fullerton plant. USA Kramer, Dean, Moserite, Dan Armstrong, Kay, Martin, Harmony, Alembic, Hagstrom and Warmouth have added to our huge inventory of parts stash used to build these custom creations.
The Subway operation is a collaboration of cottage industries in the San Francisco area. Over the years it's been a pleasure to have on our crew luthiers like Larry Scott, Ralph Novak, Marc Silber, Steve White, Michael Franti, Johnny Nitro, Chris Powell, Howard Klepper, Jon Otis, and many more.
I'm also trying to offer an alternative to today's market which has 95% of its instruments sourced in Indonesia and China, and produced under deplorable labor practices. Incidentally: these same deplorable labor practices are the same slavery that built (and continues to build) the good ole' USA in all our years gone by.
The Subway view is not necessarily to offer the new, shiny, traditional instruments from China or the stock look of Fender or Gibson re-issues. If you really need one of these, get one. We try to create our own stuff with our own look and aesthetic.
Finish: If you want what is referred to as the "shiny, prick-red corvette" look, we're not for you. Our finishes are handsome and functional, usually a clear or dyed wood stain with a satin look and feel. It is non-toxic to produce. A good lacquer finish can add hundreds of dollars to the price of the guitar, and the lacquer is poisonous to the user. We also offer a punk-ish hammertone finish (a 1940s-era machinery finish) in solid, metallic colors.
Appropriate parts: This is a tough idea to communicate, so let me offer two examples:
String nut: We offer nuts hand-tooled from bone, low action, accurate spacing, but not particularly highly polished - the highly articulated look.


Frets: Appropriately milled and polished.
When people ask: "How can you make these guitars for from $200-$400?" Let me ask you this: Do you prefer that I charge you for a string nut, or frets with a finish, that are found on $2,000+ custom guitars? Appropriate, functional quality is our theme. You must ask yourself honestly: Will you be satisfied with what is adequate and functional? Or do you prefer to spend a lot more for super-polished and shiny appointments? If yes, there are many builders who will charge you thousands of dollars for it.
Madison Avenue and Hollywood have sold some of us a value system where our self-esteem is coupled to a superficial, shiny product. You must be honest and ask yourself: is this me?
We're the old school. On one of our custom guitars you might get Schaller gears with some company's logo, or a neck plate with a company name, a pickguard made of ebony or smoked plexi-glass. For years I imported large shipments of Korean necks and bodies to build our instruments that were a synthesis: half import, half domestic. Some parts might be mis-matched, but they are of top quality and functionality.
I hope to add you to our list of ecstatic customers. Musicians like Ry Cooder, Jackson Browne, Taj Mahal, Billy Bragg, Joe Louis Walker, David Lindley, Robert Cray Band, have bought over a dozen-plus instruments EACH from us. Steve Cropper, Les Claypool, Bob Dylan, Green Day, Mark Knofler, Joe Satriani, Darryl Jones, Charlie Hunter, Jimmy Page, Cheap Trick, all have enjoyed our custom instruments. See the more complete list at the Doghouse for more happy customers.
---

Check out these factory-direct, wholesale
custom and retro guitars!

FatDog thought of 'em; now we create 'em --
at prices you can afford!
Want a custom job? It's all possible here!
For a quarter of a century the international music community has enjoyed our custom creations. We've produced bargain instruments manufactured with the new-old stock of now-defunct factories, including Dan Electro, Hagstrom, Ampeg, Vox, Coral, Eko, Moserite, Fullerton/Fender®, and Kalamazoo/Gibson.
We've retro-ized these parts by upgrading the appointments -- gears, electronics, and bridges -- from the Jumping Dog inventory AND we offer deluxe options from Bartolini, Warmoth, and Moses.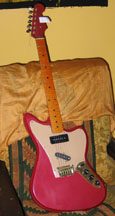 Skips's Dream:
Skip Heller's an old sort of jazz - hillbilly - R&B - country - hotshop guitarist who wanted his dream guitar: a combination of a jaguar, les paul, telecaster with a short mustang neck. It was such a success, we had many requests for these, so we're now manufacturing them with a Moserite-style German carve with 24", 24-3/4" and 25-1/2" scale lengths. Also, electric 12-string and baritone neck. Choice of colors and pickups
from $600

HOLLOW BODY/ARCHTOP

7-string Jazz Guitar
L-5 size, big Florentine cutaway, sunburst, multiple bound body. Lawrence A-400 Johnny Smith-style floating p-up with active EQ preamp in shoulder. Special machined trapeze tailpiece. Available with a number of custom permutations of electronics systems.
$500
Subway Vox.
Hollow teardrop with doofus f-hole. Sunburst finish, paddle peghead, two pickups. $350
Subway Vox.
Hollow teardrop with doofus f-hole. Sunburst finish, paddle peghead, two pickups. $350
7-string jazz guitar
. cutaway, floating pickup $500
Danelectro Jizzcaster
solid body $400
Subway single-cutaway Deluxe
with two traditional-style humbuckings $450
FD-30.
Soapbar ES-330-style made from '60s parts $400
Grand Baritone
rubyburst, Moses graphite neck, 9-volt EMG single-cutaway set. $800
Deluxe S-bass
USA Fender® neck, beautiful Warmoth Korina body, two 9w4s, active tone. $600
Subway stackpot re-issue jazz bass*.
All black, Alnico pickups, goldtone lacquer neck with black peghead. $400
The Pelvis-castor
: gold sparkle glitter telecaster* with toiletseat pickguard. Should be a tribute to Arthur "Big Boy" Cruddup $350
Retro
Vox Teardrop
guitar. Spoon peghead. Doofus f-hole, two strat-style pickups. $350
Subway Baritone Single-cutaway
with graphite neck Blade pickups $750
Stealth Double-cutaway
all black with graphite neck $400
The only longscale fiddle bass
with J-pickup $350
The Subray
like stingray with Bartolini MME and active tone. $500 [with J pickup, $600]
Subray
5-string bass with Warmoth neck, $600 [with J pickup, $700]
Thinline single-cutaway baritone
. Moses graphite neck, toiletseat pickguard. $1000
Left-handed 5-string
Warmoth/Bartolini fretless. $800

The Fiddle Axe
Quasi-retro Vox utilizing a 30-year-old new/old stock big fiddle body, outfitted with mini-humbuckers (or your choice of pickups) with the 3X3 Heritage-style neck. Quality gears and bridge.
from $375

FD-30: Subway's ES-330
NOS coral firefly body, long-scale six-in-line silvertone neck OR 3X3 rosewood heritage-style neck, 2 chrome P-90 pickups, tunamatic bridge, sealed gears, ornate trapeze tailpiece.
from $400

Retro Teardrop Vox
Goofy f-hole and doofus peghead.
$350
GIBSON-STYLE

The FatDawg
Custom Les Paul. Long-scale solid rosewood neck glued into mahogany body. Stars brass tunamatic. Loaded with tone and sustain. from
$750

The Bird Dog
A real Fatdog creation that started with a buy-out of beautiful and expensive German solid maple Shadow bodies. Incorporates 2 mini-humbuckings under a long double-cutaway scale-length and a string-through, non-trem bridge. A firebird for the proletariat at only
$350
. Comes in red, blue, black, and sunburst. Maple or rosewood boards.
BASS

MAB bass (emerald)

MAB bass
Modern-style jazz bass*. Satin colors and composite of Modulus graphite neck, Alembic pickups, Bartolini active tone. USA sourced, ash body.

WAB Blue Stingray (detail)

WAB Blue Stingray
"Specific" bass in stingray tradition. A synthesis of
Warmoth
fancy woods neck and body, big
Alembic
soapbar in bridge position driven by active tone
Bartolini
circuit.

Subraze (blueburst) with added jazz
Upgraded standard Subraze with push-pull pot and two volumes. You get a plethora of instrument voicings and active tone.
$600

THE Baaad "S" Bass
Active jazz bass* with Bartolini 9W4 pickups (1 coil per string), heavy-duty bridge. Spector circuit board. Available w/Alembic pickups and Bartolini tone circuit. Comes in black, ivory, blueburst, natural and assorted custom colors: blue, green, gold and more.
from $500
Mariachi Bass
L-5 size, big Florentine cutaway, arch-top w/round sound hole and fancy pearl trim. Choice of humbucking or lipstick tube pickup, active EQ pre-amp system optional, short-scale Dan Electro neck.
from $450

The only Long-scale Fiddle Bass
Sunburst, bound body, hollow, jazz bass* pickup, Gotoh enclosed gears 2x2 peghead.
$350

The "Subray" Stingray-style Bass
With Bartolini monster MME triple coil humbucker and Bart active NTBT tone circuit. Push/pull vol pot switches from H.B. mode to single coil with hum cancelling coil. Four- and five-string available with solid rosewood neck. Heavy-duty bridge. Colors: blonde, black, ivory and blueburst.
from $475

TriTone
Similar to Sub-raze with custom Schaller pickups at bridge. Three distinct tones and 3-band EQ.
$450

1960 Stackpot Jazz Bass* re-issue
Jet black with matching peghead. Alnico pickups.
$400

Deluxe S-bass
Limited Edition. USA Fender® neck, Warmoth body. Bartolini jazz bass* pickups (9W4), active tone.
$600
Traditional-Style Electric Guitars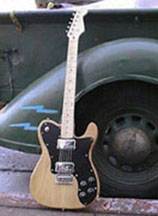 Our Custom Single Cutaway
I've always liked these humbuckers under the long Fender® scale length. We'd been making these Custom Creations for a number of years when we obtained a huge pile of these Fender® humbuckers. The solid wood bodies are available in blonde, black, ivory, blueburst and rubyburst. Lots of choices of necks: from maple, rosewood and permutations from the Warmoth or Moses portfolios. Can come with Bigsby-style tailpiece for you wankers.... The model shown here is happily rocking in Puerto Rico. Here it is leaning against FatDog's '36 Dodge pickup that he used to drive to Subway in the 1960s.
Starts at $450

1958 Double-Cutaway Replica
A 50s rockers dream: 58 Stratoid. Nice replica of a fiesta red 58 with Alnico pickups loaded into a gold anodized metal pickguard, vintage-style Kluson gears and vintage bridge. Solid wood body with gold-toned maple neck. Can't beat it for
$375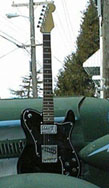 Single-Cutaway Deluxe
A great version of the traditional single-cutaway. (Even stoned-out jerks have rocked with this model.) For years we installed humbuckers in the neck position of teles (I can see all the vintage dorks cringing about now). Humbuckers rule under a 25-1/2 inch scale length. Fender® even got down with it in the 70s. Choice of colors and bursts, with our assortment of necks from vintage to contemporery. Also Warmoth and Moses graphite permutations. Single-cutaway deluxe starts at
$425

55 Double-Cutaway 2-tone
They'll call you "Buddy" while you play this. It should come with a pair of "geeky" glasses. Big, blonde, gold-tone neck; single-layer white pickguard.
$275

Midnight black graphite neck traditional-style Double-Cutaway
Pearl pickguard. Stealth. Great road-axe.
$400

1960 three-tone sunburst traditional double-cutaway
Re-issue. Mint guard. You'll experience time-travel with the "real-ness" of this.
$275
WEIRDNESS

Subway Mandocello
Built from sunburst, multiple bound hollow longhorn body. 21 inch scale; 8 sealed gears; your choice of pickups. Lipstick tube or HB; wood bridge. Special FD tailpiece.
from $275

The Grande Baritone
If I had to choose one guitar, it would be a baritone. A 6-string bass, but tuned up. It has a Moses grapite neck with 24-frets, a traditional-style single-cutaway body in a blue- or rubyburst body. You have a choice of pickups from active to passive, EMG, Alembic or vintage-style. I can even make it with a thinline type of body. The voicing is tremendous, especially when run though a tremelo reverb amp.
Starts at $750

Electric Sitar
Similar to Dan-E.
$400
* Fender®, Jazz Bass® and Telecaster®
are all registered trademarks of the Fender Musical Instrument Corporation.
---
Ordering Merchandise
I understand your concerns about buying a guitar over the Internet. You can't put your hands on it. You don't know what it'll look like, what it'll sound like, how it will feel. Then there are the issues surrounding shipping anxiety: "Will it arrive undamaged?" "When will it arrive?" "WILL it arrive?" The concerns go on and on: "What's the tracking number?" "Will you ship it today?" "When will you ship it?" "Can I get it tomorrow?"
Here are five key points to put your mind at ease:
Your purchase will definitely arrive in good, undamaged condition AND in a timely manner.


Your purchase is insured against damage in transit.


If you don't like what you've ordered, you can return it within two weeks of purchase.


You have the option of a full CASH refund or a trade-in for something else you like. All you pay is the return shipping, which amounts to about $10 within the Continental United States.


You just can't lose.
Policy
"Experience Ecstacy" for a week with your new guitar. If the instrument is not what you expected, then expect a full refund on merchandise returned in the condition of purchase. Fatdog considers this the backbone of good biz (and happy customers).
NOTE: There is no refund for shipping.

Trade-ins are seriously considered at a high value.


Subway Guitars
1800 Cedar Street
Berkeley, California 94703

(510) 841-4106
noon til six, Monday thru Saturday
Pacific Time



HOME