FULLERTON

Traditional-Style Electric Guitars

Subway Custom Strat:

an earlier incarnation, a la '71. $300







60s Jimi-style strats:

We create'em! (Note the bullet trussrod). $300 each







Rockin' Ibanezes!
$400 each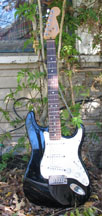 Black USA Fender Stratocaster
50th anniversary $500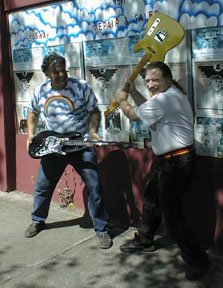 Johnny Nitro horsing around
with the Elvisblaster/Pelviscastor(gold sparkle telecastor).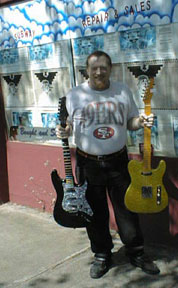 Pelviscastor with more gold than in your teeth!
Made complete with biting tone. Shown along with the Stealth Strat -- blacker than night, graphite neck and tremelo.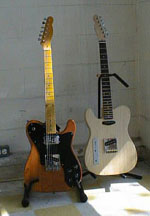 Subway Custom-built tele

Subway Custom Stratocasters
(featuring Fatdog's finger)









Lefty Telecastor

Telecaster Trio

Telecaster Trio

Fender Elite.
Serial No. E325862 Push buttons and active electronics. Comes with original case. Clean. Very good condition: $750






South-paw's Ruby
Lefty ash strat* with big peghead reminescent of the late 60s. Three Alnico pickups and beautiful satin ruby-stained finish. $400






A confused guitar
It doesn't know what it will be when it grows up! Needs psycho-therapy. Its part tele*, part strat* and part Firebird with a big fat neck. Screamin' Firebird pickups. $500






Rock 'N Roll Machine.
Single cutaway, with two Schaller humbuckers and whammy. Blonde-on-blonde. $425






The Grande Baritone
If I had to choose one guitar, it would be a baritone. A 6-string bass, but tuned up. It has a Moses graphite neck with 24-frets, a single-cutaway style body in a blue- or rubyburst body. You have a choice of pickups from active to passive, EMG, Alembic or vintage-style. I can even make it with a thinline type of body. The voicing is tremendous, especially when run through a tremelo reverb amp. Starts at $750


Subway Single-cutaway Deluxe with two Fender® humbuckings $450

Mustang* copy with built in amp and speaker. Good travel guitar. Black. (Uses 2 nine-volt batteries) $125

Our single-cutaway Custom. Fender® parts, blonde on blonde with black pickguard. Loaded with big Fender® humbuckers. 3X3 staggered coils. $475

Decent traditional-style double-cutaway copy. Ivory. $200

Single-cutaway with Bigsby. Black. $450

Maple-neck Single-cutaway. Black body with mother of toiletseat pickguard. $325

Maple-neck Single-cutaway. White body. $325

Canadian Laravee. Metallic gray, neck-through, non-trem. One humbucker and two single coils. Pickups. Very high quality. $500

Fender® Single-cutaway Thinline. Mahogany. Japanese. $650

Maple-neck Single-cutaway with bullet neck, ivory body. $300

USA big peghead 70s strat*. Turquoise. $800

Maple-neck Fender® Tele. Black body. Mexico 1992. $225



The Bird Dog
A real Fatdog creation that started with a buy-out of beautiful and expensive German solid maple Shadow bodies. Incorporates 2 mini-humbuckings under a long strat* scale-length and a string-through, non-trem bridge. A firebird for the proletariat at only $350. Comes in red, blue, black, and sunburst. Maple or rosewood boards.



Tokai vintage-style Single-cutaway. Black hardware with cream body. $325

Lucky for Lefties! Custom Single-cutaway we made years ago returns with cool lefty parts, ash body. $400

Black import Single-cutaway. Speckled with green spooge. Looks like a nebula in Star Trek. $225

55 two-tone sunburst traditional double-cutaway re-issue. Gold-tone neck. $350

Meat-red Squire puebo- traditional double-cutaway with humbucker at bridge. $200

Fernandes pearl-white traditional double-cutaway. Vintage-style. $300

Fifties fiesta-red traditional double-cutaway re-issue. $275

60 three-tone sunburst tradtional double-cutaway re-issue with slabboard and mint guard. Nice road guitar. $275

Black 60s stang. $550.

Fluorescent green '64 Mustang*. $375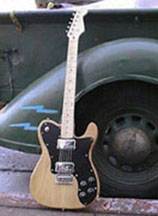 Our Custom traditional single-cutaway
I've always liked these humbuckers under the long Fender® scale length. We'd been making these Custom Creations for a number of years when we obtained a huge pile of these Fender® humbuckers. The solid wood bodies are available in blonde, black, ivory, blueburst and rubyburst. Lots of choices of necks: from maple, rosewood and permutations from the Warmoth or Moses portfolios. Can come with Bigsby-style tailpiece for you wankers.... The model shown here is happily rocking in Puerto Rico. Here it is leaning against FatDog's 1936 Dodge pickup that he used to drive to Subway in the 1960s. Starts at $450


White 66 Mustang*. $550

78 Fender® Duo-sonic/MusicMaster mutant. Push-pull pot. Black. $375

See-through cream JazzMaster with tortoise guard. Re-issue. Really sweet. $700

Canary-yellow Jag with matching headstock. Toiletseat guard. $700

Shoreline gold Fender® Strat* 12-string with two Lawrence humbuckers and active tone. $500

Univox blonde Strat* with three humbuckers. Seattle geek machine. $300

Custom handmade Excaliber. Part Strat*, part Ric, and part Les Paul. High quality. Today would be worth two grand. Made 20 years ago. Great deal. Now: $500

Chalk blue Strat* with black guard. $325

Birdseye City. Non-trem blonde Strat* by Boogie-Bodies. Pre-Warmoth. $500



1958 Traditional Double-Cutaway Replica
A 50s rockers dream: 58 *Stratoid. Nice replica of a fiesta red 58 with Alnico pickups loaded into a gold anodized metal pickguard, vintage-style Kluson gears and vintage bridge. Solid wood body with gold-toned maple neck. Can't beat it for $375



55 2-tone burst re-issue. Klusons. $275

70s lefty big peghead. Heavy *Strat. $550

Vintage traditional-style double-cutaway re-issue. 1981 USA neck. Pearl white. $475

Custom Subway Traditional Double-cutaway. Super birdseye neck on black body and mirrored pickguard. Three EMGs (9-volt) for the GQ type of dude. $500

Super birdseye neck on blue sunburst body. Blue mirrored pickguard, 3 EMGs (9-volt). $500

Custom Subway traditional double-cutaway with Warmoth rosewood and ebony neck on ruby-burst body and toiletseat pickguard. $500

MusicMan with humbuckers and active electronics. Non-trem and Modulous graphite 4X2 neck. $600

Great graphite neck road-axe! Blue to deep purple sunburst body. Black hardware, humbucker with two single coils. $500

Active art deco MusicMan. Custom. Gold hardware, non-trem body, ivory soapbars on blonde swamp ash bod. Active electronics. $500


5-string traditional single-cutaway
This is an example of what happens when you smoke
pot and build guitars: you forget how many holes to
drill. Its not quite a common as the nut with 7 slots in it....





Guild Telecaster*. Metallic red, gold hardware, (9-volt) EMG pickups. Statue of Liberty picture on neckplate. $500

Black-on-black 85 Fender® Japanese Strat*. Vintage style. $325

Red with ebony board, 22-fret *Strat. Rear-routed, no guard. Three on-off switches. $300

Guild set-neck strat* with EMG and whammy. Blue. $500

Black and gold vintage-style *Strat. $325

Peavey T-15. Two pickup, shortscale neck. Kid's guitar. $175

Jim Deacon vintage Strat* copy, Made in England.

Tobacco burst. $300

Went through a bandsaw. Non-trem Carlo *Strat. Looks like the-artist-formerly-known-as Prince's guitar. $200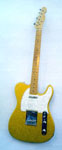 The E-caster
Rock star stuff. Pelvis-gyrating machine. Gold-sparkle glitter finish and mother-of-toiletseat pickguard. Has a contour on back fit for a king's chubby paunch. I should probably give some of the profits from these to Arthur "Big Boy" Cruddup, since he got nothin' out of it -- and it really was his thang. While some fat slob ate peanutbutter and bacon, deep-fried, another Big Boy starved. $375



Substang. Subway upgraded, Harmony Jizzcaster. Good gears, pickups, bridge. 24-inch scale. $200

Two-tone burst vintage-style Strat*. Big peghead, USA Fender® neck. $800

Fernandes Strat*. White sparkle body. $325

Lake Placid blue. Fame Strat* 12-string. Mini Grovers, two humbuckers. Real nice. $325

Substang. Subway-built Mustang*. 24" scale length using 60s Harmony neck and body. Two pickups. $200

Deluxe Substang. Mustang* -style, shortscale. 50's Harmony. Tortoise shell pickguard. Black and red sunburst. $225

Carrera Mustang* copy. Black with maple neck. Tunamatic bridge. $140

59 Fender® Jazz Master. Two-tone sunburst, refinished. Mother-of-toiletseat pickguard. Later neck and hardware. $1200

Rockin' midnight blue sparkle Yamaha copy of MusicMan. $300





Traditional-style electric guitar -- double cutaway.
Every body wants a *Strat! I've chosen this instrument for its excellent features and budget price. The body is solid wood and is equipped with a high-quality tremelo bridge that raises -- and lowers -- the pitch. This is usually accomplished by a high-tech system that is more trouble than its worth, but the bridge on this is in the traditional style and does a very good job. The electronics system comes with a humbucking lead pickup at the bridge and two traditional single coils in the neck and middle position. The neck is excellent quality with a good trussrod system; it has high quality enclosed tuning gears. Colors: ivory, black, metallic, blue, red, sunburst. Similar instruments list for at least $400. Our price: $175


81 USA Fender® black Strat*. $550

Black Fender® Lead-1. Humbucking and single coil. Ugly, black crackled finish, orig. Fender®'s attempt at a Les Paul. $250

71 Strat®. Blonde-on-blonde, removed and restored from Floyd nut. $1000

79 Strat®. Ivory, maple neck. Clean. $800

77 Strat®. Maple neck, black body. $900

Big peghead 68 Strat® re-issue. Black with black pickguard. Clean. USA neck and pickups. $850

68 re-issue Strat®. Two-tone sunburst body, big peghead, USA neck. Cool. $850

71 Fender® Telecaster $1000



1960 three-tone sunburst Strat*
Re-issue. Mint guard. You'll experience time-travel with the "real-ness" of this. $275



Lawsuit Ibanez: 68 strat* $400

79 strat®, ivory $800

MusicMan guitar with graphite neck $600

Stealth Strat* all black with graphite neck $400

The Pelvis-castor: gold sparkle glitter telecaster* with toiletseat pickguard. Should be a tribute to Arthur "Big Boy" Cruddup $350

1969 Fender® Strat. Call for price

1974 Fender® Strat. Maple neck, restored to original blonde finish, 4-bolt conversion. $800

1979 Fender® Strat. Rosewood, sunburst, 3-bolt. $800

1981 Subway vintage re-issue. USA Fender® Lead neck, alder Strat* body. Wiring, 5-way, etc., rosewood. $475



Midnight black graphite neck Strat*
Pearl pickguard. Stealth. Great road-axe. $400


1981 maple neck. $450

1988 the Fender® Strat, blue, rosewood, Kahler Spyder bridge. $500

1987 Japanese Strat*, maple neck, humbucker in bridge position. $350

1983 U.S. Fender® Strat. Rosewood, black. Humbucker in bridge. $475

Sunburst Elite stratocaster* with on-board push button blender. Virtually new. Fender® had one foot in the grave when they made this in 1980. $775

Fender® deluxe Telecaster with two humbuckings. Tan. Very clean. $1000

Candy-apple red Yamaha telecaster* with humbuckings and push-pull pot for coil cut. Japanese. $275


DOUBLE CUTAWAYS
Canadian Larrivee. String through, humbucker in bridge. Black, rosewood, Schaller gears. $400

Charvel, pearl white, maple neck, gold hardware. Reverse headstock. $450

Subway custom. Vintage-style rosewood neck, Kluson's w/Floyd Rose, EMG pu and 3 mini-toggles. $450



55 Strat* 2-tone
They'll call you "Buddy" while you play this. It should come with a pair of "geeky" glasses. Big, blonde, gold-tone neck; single-layer white pickguard. $275


Kustom Charvel-ish thang. Reverse headstock, maple neck, EMG select. P-ups Floyd Rose. $500

Westone Concord SX transluscent red finish. Fingerboard and everything; locking trem. $300

G&L Invader. 2-single coil, 1 humbucker. Kahler trem, Red. $450

MusicMan Sabre. Modulus graphite 4x2 neck, carvin
pickups, black. $600

Subway special G&Man guitars. Surplus MusicMan and G&L parts, soapbar pickups. Mean cool gits at big savings. Strats* and Teles*. Hurry -- only a few left. $500

1961 DuoSonic. Custom-red crackle finish. Custom pickguard. Super-short 22" scale. $400

1965 Mustang*. Refinished black, tortoise p-guard. $375

1978 MusicMaster neck with old Mustang* body. Custom turquoise pearl w/mother-of-toiletseat pickguard. $425

Emerald green Subway-built JazzMaster. Matching headstock. Fender® pickups. $650

Ivory white JazzMaster. Matching headstock, red tortoise guard. Old 62 re-issue neck, 1964 Fender® body. $700

Glow Skull green. Matching headstock. Fender® JazzMaster. Red tortoise p-guard. Fender® 62 re-issue neck, 64 body. $700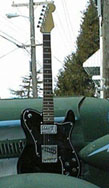 Tele* Deluxe
A great version of a Telecaster®. (Even stoned-out jerks have rocked with this model.) For years we installed humbuckers in the neck position of *teles (I can see all the vintage dorks cringing about now). Humbuckers rule under a 25-1/2 inch scale length. Fender® even got down with it in the 70s. Choice of colors and bursts, with our assortment of necks from vintage to contemporary. Also Warmoth and Moses graphite permutations. Tele* deluxe starts at $425



* Fender®, Telecaster®, Stratocaster® and Mustang® are all registered trademarks of the Fender Musical Instrument Corporation.


---
Ordering Merchandise
I understand your concerns about buying a guitar over the Internet. You can't put your hands on it. You don't know what it'll look like, what it'll sound like, how it will feel. Then there are the issues surrounding shipping anxiety: "Will it arrive undamaged?" "When will it arrive?" "WILL it arrive?" The concerns go on and on: "What's the tracking number?" "Will you ship it today?" "When will you ship it?" "Can I get it tomorrow?"


Here are five key points to put your mind at ease:
Your purchase will definitely arrive in good, undamaged condition AND in a timely manner.


Your purchase is insured against damage in transit.


If you don't like what you've ordered, you can return it within two weeks of purchase.


You have the option of a full CASH refund or a trade-in for something else you like. All you pay is the return shipping, which amounts to about $10 within the Continental United States.


You just can't lose.
Policy
"Experience Ecstacy" for a week with your new guitar. If the instrument is not what you expected, then expect a full refund on merchandise returned in the condition of purchase. Fatdog considers this the backbone of good biz (and happy customers).



NOTE: There is no refund for shipping.

Trade-ins are seriously considered at a high value.

Subway Guitars
1800 Cedar Street
Berkeley, California 94703

(510) 841-4106
noon til six, Monday thru Saturday
Pacific Time