KALAMAZOO

Gibson-style Guitars
Updated 22 April 2006

Rockin' les paul thangs:

the archtop Ibanez (left) is $500 and the generic, flatop Special (right) is $400. Both have set necks. The les paul Special has a big, fat 50's neck. The Ibanez finish has been thrashed -- but everything else is great.







Mo' rockin' les paul-style:

white les paul custom (left) is probably of the lawsuit Ibanez era; the Melody Maker with P-90s (right) is a 60's thing that we worked on.$400 each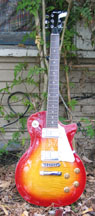 Les paul style
$350

glued-in neck, flame maple top with vintage cherry sunburst (NOT prostitute lipstick red). Solid rock 'n rock classic! $280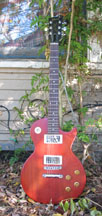 Gibson Les Paul Special
with two humbuckings, red. $700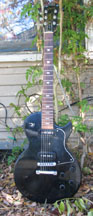 Gibson Les Paul Special
black with two P90s $700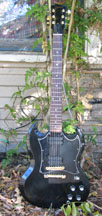 Gibson SG
with gold hardware and two humbuckings $700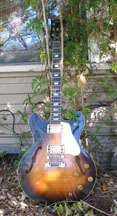 70s Gibson 335
sunburst $1600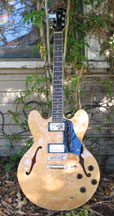 Blonde Hohner 335
$400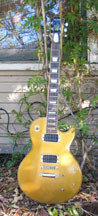 Gold Hohner Les Paul
$375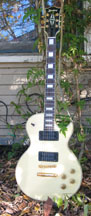 Cream Bradley
Les Paul Custom $375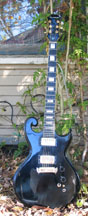 Epiphone Scross
$500


Set neck, candy-apple Hamer
prototype with 3-coil motherbucker pickup








7-string set neck flame top

Old Santana-style SBG-2000
Ebony neck through with push-push pots -- REALLY good!





Old handmade FD les paul
Sports model with solid "big" rosewood neck, long-scale, glued into Honduras mahogany body.







Murdered Tokai les paul

Gibson Flying V
Glam-dork spent a fortune on this








Gibson 335 Dot
with case. $1000








Gibson V
Serial No. 32598719. Ebony fretboard, black hardware, pink combo case. Very clean; barely played. Excellent condition. $850






Les Paul Fleet
These are our typical high-end les paul replicas. (From left) The first is an all-gold 50s-style with a set neck and humbuckers. Next comes a beautiful black les paul custom replica with gold hardware. The third is a goldtop with P-90s and a Bigsby. The fourth is our flametop hot rock guitar. Its a replica of a 58 cherry sunburst. These go from $350 to $400 with vintage humbuckers or hot humbuckers at no extra charge.






Blues Guitar
Got this from an ooold elder blues guy named "Gregory" (he hates that name). Its an old Kraftsman. Plays and sounds great. $275.






Dilly-bar [Actually Dillion].
Top-notch 50s goldtop. Les paul style with soapbars. $400







Fatdog Riviera
Old faded goldtone Riviera copy with authentic parallelagram inlays. Glued-in neck and maple block down the center. $400






Rubyburst 335
Block of maple down the center. Glued-in slim neck. $400







Fatdog's SG
Long-scale with soapbars. Big early 60s neck. Schaller gears. Plus Honduras mahogany body and stars bridge makes this a tone MONSTER! Glued-in set neck. $600






The FatDawg
Custom Les Paul. Long-scale solid rosewood neck glued into mahogany body. Stars brass tunamatic. Loaded with tone and sustain. from $750



Clean 50s Les Paul hollow sunburst Kay with two crispy pickups, tunamatic bridge and Gotoh-style gears. $225

Our cherry sunburst 58 Les Paul replica. Super flame maple top. Glued-in neck. Shreding Schaller humbuckers. Leaves the Deluxe Gibson Epiphone at the starting line. This thing ROCKS! $350

Clean 50s Les Paul hollow sunburst Kay with two crispy pickups, tunamatic bridge and Gotoh-style gears. $225

The FatDawg Les Paul. This one has a maple neck with a Brazilian rosewood longscale fretboard. $750

Airline by Supro. Three pickup Les Paul. Art decco, with tv-finish. $400

Metallic red Les Paul copy. Gold hardware. $175

Old Guild BluesBird. Epiphone peghead, 1960. Wine red, one pickup, small neck. Clean. $1000

Heritage TV-finished Les Paul Special-style with H.B. pickups. $500

'60s Gibson. White. SG Special. Two soapbars, baaad-ass bridge. Jackson, this is for you! $800

New Gibson Firebird. Pink flesh innards from Gibson Rep. (Don't forget the combination case) $1000

Cheap-ass Regal Les Paul Junior copy. See-through plexi-glass pickguard and knobs. Two humbuckers. $125

OLD. White, gold and black. Supro Dual-tone. Decco. Les Paul. $375

Cream, set-neck Les Paul, Jr. with two HOT! humbuckers and gold hardware. $275

Cherry-red Hohner ES-335. $400
Wine-red Seville Dot 335 copy. Gold hardware. $350

Blondish-gold Les Paul with Bigsby. $300

Ugly cherry sunburst Les Paul copy by Harmony. $150

Tobac. Les Paul copy. $175

Black Les Paul copy. Clean. $150

Dark blue sparkle Les Paul copy. Gotoh gears and bridge. $200

Cherry sunburst 335 copy. Set neck by Hohner. $400

71 Les Paul Goldtop $1500

Custom black Les Paul with binding, pearl. $400



7 string Les Paul (peghead detail)

7-string Les Paul
A guy played a solid rosewood neck Les Paul that I make and said: "Can I have this as a 7-string?" I said; "Sure!" He was one happy dude. Features solid rosewood neck with a nut width of 1-7/8" glued into a Honduras mahogany body. Blade humbuckers and custom bridge and tailpiece. Tons of sustain and tone. $800




Black Les Paul Custom $1500

Natural 3-pickup Les Paul Custom $1800

71 SG Standard $1000

70s Gibson ES-325 $800

Heritage 335 $1000

All gold Les Paul set neck. HOT! pickup. $374

Dorky Dean Cadillac (USA) Les Paul style $450

3 pickup SG Custom copy. Good quality $300

High-end Framus Les Paul. Fancy ebony fretboard. Gold glitter pickguard, natural finish. two mini-humbuckers. $350

Bolt neck Les Paul copies. (The guitar that "made Milwaukee nauseous"). Sunburst and assorted finishes, sealed gears. $125-$150

56 Supro Dual-tone. White with gold hardware. Original case. $325

Airline 3 pickup, Supro Les Paul custom. Red-black sunburst. $300

Airline 3 pickup, Les Paul custom. Blonde. T.V. finish art deco. P-guard tunamatic bridge and sealed gears. $400

70s Epiphone Genesis. Black 2x cut Les Paul thang. Quality budget axe (see Bass section for matching bass). $350

Modified Marauder. Two humbuckers, steel blue pickguard. One vol, one tone. $350

1966 SG Special. Twp soapbar (P-90's) super jumbo re-fret Schaller. $450

Early 80s Angus Young style SG. Two humbuckers. Baaad-ass bridge. $450

61 Double cutaway Melody Maker. Mirror pickguard, trick series/parallel & phase wiring. $425

82 single cutaway, Melody Maker Fire-engine red. One humbucker. $400




Gibson-style Les Paul with set/glued-in neck
Cherry sunburst finish over book-matched flamed maple top. Les Paul-style solid body guitars are re-appearing as a musician's favorite, hence, I offer at $350. The list on similar guitars is around $900. This comes with humbucking pickups, a tunamatic bridge, and vintage-style Kluson tuners and is very reminiscent of a classic 1958 Les Paul. Sounds good at all volumes.






---
Ordering Merchandise
I understand your concerns about buying a guitar over the Internet. You can't put your hands on it. You don't know what it'll look like, what it'll sound like, how it will feel. Then there are the issues surrounding shipping anxiety: "Will it arrive undamaged?" "When will it arrive?" "WILL it arrive?" The concerns go on and on: "What's the tracking number?" "Will you ship it today?" "When will you ship it?" "Can I get it tomorrow?"


Here are five key points to put your mind at ease:
Your purchase will definitely arrive in good, undamaged condition AND in a timely manner.


Your purchase is insured against damage in transit.


If you don't like what you've ordered, you can return it within two weeks of purchase.


You have the option of a full CASH refund or a trade-in for something else you like. All you pay is the return shipping, which amounts to about $10 within the Continental United States.


You just can't lose.
Policy
"Experience Ecstacy" for a week with your new guitar. If the instrument is not what you expected, then expect a full refund on merchandise returned in the condition of purchase. Fatdog considers this the backbone of good biz (and happy customers).



NOTE: There is no refund for shipping.

Trade-ins are seriously considered at a high value.



Subway Guitars
1800 Cedar Street
Berkeley, California 94703

(510) 841-4106
noon til six, Monday thru Saturday
Pacific Time