TYPICAL SUBWAY BARGAINS
Fatdog has chosen these three replicas of classic instruments as his 2005 holiday specials
-- offering them at a special holiday price --
while they last!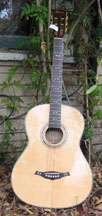 Circa 1920s 00-28 replica
$225

Solid spruce top, quasi-rosewood back and sides, fancy inlays and slotted peghead.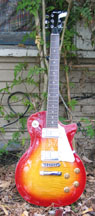 Les paul style
$350

glued-in neck, flame maple top with vintage cherry sunburst (NOT prostitute lipstick red). Solid rock 'n rock classic! $280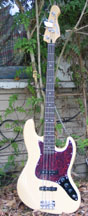 60s-style jazz bass
$225

Ivory body, tortoiseshell pickguard, 60s vintage-type pickups



More Holiday Specials -- Get 'Em While They Last!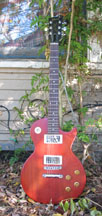 Gibson Les Paul Special
with two humbuckings, red. $700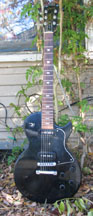 Gibson Les Paul Special
black with two P90s $700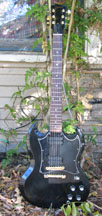 Gibson SG
with gold hardware and two humbuckings $700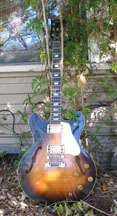 70s Gibson 335
sunburst $1600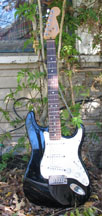 Black USA Fender Stratocaster
50th anniversary $500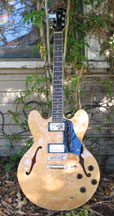 Blonde Hohner 335
$400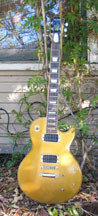 Gold Hohner Les Paul
$375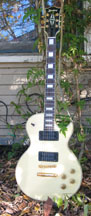 Cream Bradley
Les Paul Custom $375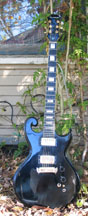 Epiphone Scross
$500

Moserite Clone
$500

And Still More Holiday Specials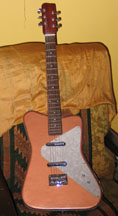 Pro I:
Some patient guy requested this. We made it in a real 50s style, including the pickguard from a 1950s kitchenettte tabletop made of real mother of toiletseat. Long scale, Subway custom wiring, adjustable bridge and good gears -- with a 355-type of tone block running down the center. New/old stock neck blank.$500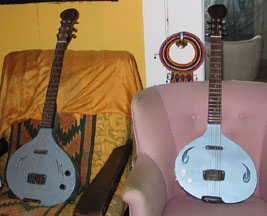 Sitar Twins
Sreco from Slovenia, who plays sitar, built a bunch of these on my ranch and they are really wild! -- with sound holes and an ebony "buzz" bridge. The peghead is styled like a 3D gourd. Where else could you get a left-handed sitar for $500?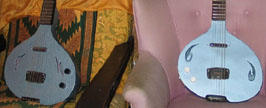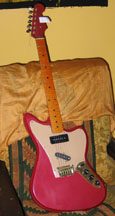 Skips's Dream:
Skip Heller's an old sort of jazz - hillbilly - R&B - country - hotshop guitarist who wanted his dream guitar: a combination of a jaguar, les paul, telecaster with a short mustang neck. It was such a success, we had many requests for these, so we're now manufacturing them with a Moserite-style German carve with 24", 24-3/4" and 25-1/2" scale lengths. Also, electric 12-string and baritone neck. Choice of colors and pickups from $600






Esther's Dream: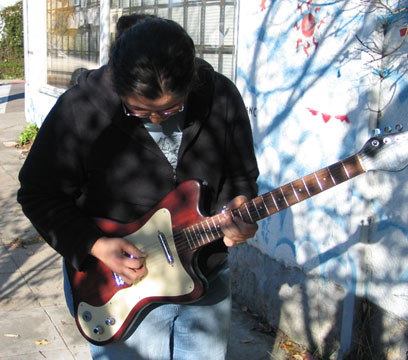 ---
Ordering Merchandise
I understand your concerns about buying a guitar over the Internet. You can't put your hands on it. You don't know what it'll look like, what it'll sound like, how it will feel. Then there are the issues surrounding shipping anxiety: "Will it arrive undamaged?" "When will it arrive?" "WILL it arrive?" The concerns go on and on: "What's the tracking number?" "Will you ship it today?" "When will you ship it?" "Can I get it tomorrow?"

Here are five key points to put your mind at ease:
Your purchase will definitely arrive in good, undamaged condition AND in a timely manner.


Your purchase is insured against damage in transit.


If you don't like what you've ordered, you can return it within two weeks of purchase.


You have the option of a full CASH refund or a trade-in for something else you like. All you pay is the return shipping, which amounts to less than $20 within the Continental United States.


You just can't lose.
Policy
"Experience Ecstacy" for a week with your new guitar. If the instrument is not what you expected, then expect a full refund on merchandise returned in the condition of purchase. Fatdog considers this the backbone of good biz (and happy customers).


NOTE: There is no refund for shipping.

Trade-ins are seriously considered at a high value.



Subway Guitars
1800 Cedar Street
Berkeley, CA 94703

(510) 841-4106
noon til six
Monday thru Saturday
Pacific Time

E-mail FatDog if you're out of the country.
It is best to call for a speedy response.



HOME