More new treasures
and surprises

European Gypsy Guitar:
circa 1960, bright and loud!








Custom-ordered Jizzblaster:
with Schaller humbuckings and Bigsby tailpiece -- for extra wankability.
$500







Bernardo Rico:
circa 1970 handmade, 30s, herringbone, Martin, D-28 replica. We were lucky to come by a few of these over the years, and we're honored to have Steve Cropper get one from us. And he loves it!
$1000







Handmade German Guitar:
circa 1970. Flame maple, back and sides, pickup, medium+ profile neck, INCREDIBLE rich tone and has transducer pickup
$1000







Faded Inca-silver:
50s, Kaye (ES-125), owned by a reverend from the original Gospel Messengers. Plays great, has a rich, bluesy sound.
$400







70s Les Paul:
$1900

You could play in Barbie's surf band with this 60s Kay:
molded pickup cover into pickguard, for extra plastic.
$300







Clean 60s sunburst Harmony Sovereign:
$ 400

Copper 50s Kay:
with lipsticks and series parallel and phaze reversal. Similar to thinline tele. It really has great tone.
$400







Turkish cumbus :
12-string, fretless oddity. On one of my few trips to Istanbul, Iwent into the musical district where there were dozens of variations of this instrument. I bought a mandolin for travel reasons, but they had six-string, 12-string guitars, bouzikuke and saaz permutations.
$250






The Holy Grail
and more Surprises
The Holy Grail of Blues Amps:

late 50s Fender Bassman with 4-10" speakers. This was used by some of the greatest blues musicians on Planet Earth, and accompanied many more of them. We're selling this for the owner on consignment. Call for a list of the musicians who've played through it. Talk about Mojo! This has got it! $3400







Subway Custom Strat:

an earlier incarnation, a la '71. $300







60s Jimi-style strats:

We create'em! (Note the bullet trussrod). $300 each







Mystery instrument:

Spruce and rosewood, OLD, possibly a Portugese bandoura. Note the doglike-face created by the sound holes. I personally felt attached to that design. $400








Satin and silky smooth, three pickup fretless jazz bass:

USA neck and body. The bridge and middle pickup are dual coil; the neck pickup is traditional vintage single coil. Really handsome -- plays and sounds tremendous. I made this for a guy who cancelled his order. It's yours for only $600







Rockin' Ibanezes!
$400 each

Rockin' les paul thangs:

the archtop Ibanez (left) is $500 and the generic, flatop Special (right) is $400. Both have set necks. The les paul Special has a big, fat 50's neck. The Ibanez finish has been thrashed -- but everything else is great.







Mo' rockin' les paul-style:

white les paul custom (left) is probably of the lawsuit Ibanez era; the Melody Maker with P-90s (right) is a 60's thing that we worked on.$400 each







Some Subway Custom ES-330 jazz guitars:
a la Grant Greene. The walnut finished (left) is $350; the sunburst (right) is $300. Upgraded gears, pickups, bridge and tailpiece






30's lick-mucus:

Solid top. Has had neck rest. Unbelievable voice.$700







Mind-blowing late 40s Kay L-7:

Fat flamed maple neck, deco inlays and solid top. $700







30's Armstrong:

Solid spruce top, like a 20's L-5 (copy). Billy Armstrong -- the Green Boy -- has gotten alot of old guitars from us, and I told him that I had one with his name on it! And he just went: "Eech! who cares?" Has had neck reset, plays real well. Now its yours for $700.







30's Regal Kaycraft:

Solid spruce top, neck reset, remarkable pearloid peghead. $700








Danelectro Jizzblaster:

This is the stuff we're making at the Ranch. German carved perimeter -- like Moserite -- opaque white Rickenbacker-ish pickguard. New-old stock '64 neck. Wide and thick, with Brazilian rosewood fretboard and Gibson jumbo fretwire. Of course, Subway custom wiring with series parallel and phaze reversal. We've made alot of these over the years, for people like Mark Knofler and Robert Cray Band. In our shop this is known as the Mark Knofler model. $$400 -- and its a deal at that.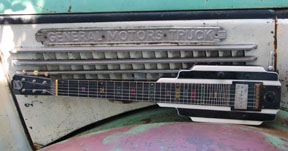 Art deco on deco:

National lapsteel and a 36 GMC pickup hood.







Really cool 60s Moserite Combo copy:

called the "Royal Artist" but at Subway, it's called the "Royal Fartist." Gives a big, deep woofy sound. $350







Weird 5-string bass:

we put on Alemic pickups and a Bartolini pre-amp. Really has that low-B piano tone; rich and thick. Clean. $900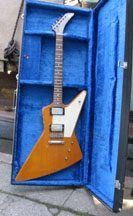 The Ibanez Destroyer:

a rockin' Holy Grail -- before Eddie van Halen had any sense, he played one of these. Made in Japan circa 1978.







Five-string banjo:

it had an eagle and American flag painted on the inside of the resonator. It was too much for me, so I put in a red star with lightening bolts -- an original Fatdog "work of art." $225








---
Ordering Merchandise
I understand your concerns about buying a guitar over the Internet. You can't put your hands on it. You don't know what it'll look like, what it'll sound like, how it will feel. Then there are the issues surrounding shipping anxiety: "Will it arrive undamaged?" "When will it arrive?" "WILL it arrive?" The concerns go on and on: "What's the tracking number?" "Will you ship it today?" "When will you ship it?" "Can I get it tomorrow?"

Here are five key points to put your mind at ease:
Your purchase will definitely arrive in good, undamaged condition AND in a timely manner.


Your purchase is insured against damage in transit.


If you don't like what you've ordered, you can return it within two weeks of purchase.


You have the option of a full CASH refund or a trade-in for something else you like. All you pay is the return shipping, which amounts to about $10 within the Continental United States.


You just can't lose.
Policy
"Experience Ecstacy" for a week with your new guitar. If the instrument is not what you expected, then expect a full refund on merchandise returned in the condition of purchase. Fatdog considers this the backbone of good biz (and happy customers).


NOTE: There is no refund for shipping.

Trade-ins are seriously considered at a high value.



Subway Guitars
1800 Cedar Street
Berkeley, CA 94703

(510) 841-4106
noon til six
Monday thru Saturday
Pacific Time

E-mail FatDog if you're out of the country.
It is best to call for a speedy response.



HOME