ELLIS ISLAND

Imported Guitars

Da Angel
I want to offer Da Angel to all of you who want the forties and fifties archtop sound without draining your Swiss bank account. For hollow bodies, tone (to me) has always been a punchy, wide aperture single-coil in the neck position. I'm offering vintage, new/old stock, genuine D'Armond pickups on this art deco beauty. Its very zen with one volume knob on the stairstep pickguard. It has a decent sound acoustically and a tremendous electric tone that goes to the roots of electric jazz guitar voicing. Da Angel -- he's my Dude. Blonde, dressed in gold hardware, flame curley maple, back and sides. Great for be-bop, blues, even schmoltzy jazz. $700 (Not $70k)



The Lowell
In the sixties, I had the pleasure of Lowell Folsom's blonde ES-5. Lizard Slim took me to a old jazz guitar store and showed me this guitar he wanted to buy. And I flipped. Lowell Folsom had traded in his ES-5 -- a big jazz guitar with three P-90s -- for a white Falcon. This was like one of those old "fat fart, pipe-smoking jazz guitar stores" -- in the suburbs. Anyway, we got to play it and have it around for a year or two.... When I was a pup, I murdered an old cutaway Harmony, trying to create a Lowell-type of guitar. Thirty-some years later, I've achieved my goals with the Lowell. I start with a beautiful blonde archtop with flame and curley maple, back and sides. Block inlays and even the tit at the end of the fretboard. I've dressed this with three P-90s and the old speed knob arrangement of one volume for each pickup and a master tone in the rounded cutaway. I wire the middle pickup out of phaze for that t-bone tone. This thing is bitchin'. This is one of the most rockin' R&B bad boys out there -- AND great for a true blues tone. $700 (Not $7,000)



The Dan E Jizzcaster
If Jimmy hadn't wanked on *strats, these guitars would have been the "classic" for that single coil blues and rock tone. Dan Electro and Coral made these jizzcasters in alot of different configurations in the 60s. Some were dressed with the Silvertone label to be vended through Sears; others with the Dan Electro name; later on they beveled the sides of the body to an elliptical flying saucer shape and bore the Coral name. They are a great guitar in the Fender® style; they had a thick Brazilian rosewood fretboard, two or three lipstick tubes and a fixed or whammy bar bridge. The whammy was really weak and sucked for tuning. When we got the Dan E pile, there were tons of parts for these; we are recreating the two- and three-pickup model with some improvements. The necks came finished with the skate-key tuners. We're using a six-way non-trem strat* bridge, and Gotoh or Kluson-style tuners. We're doing the alligator-skin crackle finishes -- mostly because they're fairly non-toxic and also reminiscent of the 60's Dan Electro era. We'll probably do some weird colors, but we'll stain the wood -- like purples, blues and greens. We're adding a push-pull pot for phaze reversal. These things KILL for $400. We've sold alot of them over the years to top R&B players that just couldn't believe what a great guitar they are.



The Gene V
I've been dreaming of his series of instruments for awhile. I love these big fat blonde jazz guitars, but I like them dressed more for the 50s. So we're offering three models: Gene, Lowell and 'da Angel. Here's a glimpse of Gene: get your blue cap out and ROCK! Loaded with two P-90's, Bigsby-style trem, Schaller tunamatic roller bridge and Gotoh locking magnum gears -- for those dudes who really want to yank their thang. The magnums have a piston in the shaft that locks the string -- you basically get half a revolution around the post when the thing's in tune. So wanking and yanking won't wack it out of tune. The other model -- Lowell -- will have 3 P-90 soapbar pickups, a master tone in the cutaway, three volume knobs in a line, and a fancy art deco tailpiece. This will be a great blues guitar in the tradition of T-bone Walker and Lowell Fulsom. Now for 'da Angel. We're gonna go the for art deco with a tailpiece and stairstep pickguard. There will be one genuine D'Armond pickup mounted to the end of the fretboard -- floating -- and a volume knob on the pickguard. This will be more of a zen jazz guitar. You can play smoltz on it that will have your grandmother exclaiming: "Marvelous!" She'll even miss her Arthur Godfrey Show to hear you strum a little concert for her. Here's the super good news: 7 bills each. Not $7000 -- but $700. The final touch on all three models will be a faux pearl inlay -- FatDog -- in the peghead. Finally, the FatDog brand will have a guitar who's styling deserves sporting the FatDog label. They will be in a blonde and gold tone finish. Of course we'll have custom permutations of the appointments -- bridges, pickups, tuners, etc. One guy has already put his name in for one black P-90 by the neck.



Acoustic bass with Piezo
Comes with bridge pickup and active EQ in preamp. It actually sounds good acoustically and has a wide range of electric tones. $325



The Deluxe S-Bass
A synthesis of Warmoth body, slender USA Fender® neck, Bartolini 9W4 jazz bass pickups run through an active tone circuit. Very resonant Korina body. Some people wait 12 months to pay $2400 for a similar bass. This one is $600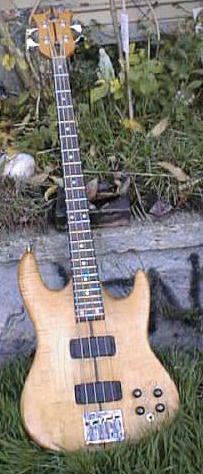 Moderne Electric Bass
It features a thin 24-fret neck, a flame maple honey sunburst top with humbucking electronics. Its a beautiful piece for $400.







Beautiful Retro Jazz Bass*
Gold-plated hardware, mother-of-toiletseat pickguard, solid wood body with ruby-brown sunburst. Vintage-style pickups.$400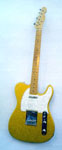 The E-caster
Rock star stuff. Pelvis-gyrating machine. Gold-sparkle glitter finish and mother-of-toiletseat pickguard. Has a contour on back fit for a king's chubby paunch. I should probably give some of the profits from these to Arthur "Big Boy" Cruddup, since he got nothin' out of it -- and it really was his thang. While some fat slob ate peanutbutter and bacon, deep-fried, another Big Boy starved. $375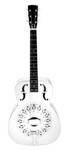 Reproduction of 30's National
Bell-brass body, chrome-plated, has a trussrod in the neck and Gotoh tuning machines. An old associate of mine called me and said he was manufacturing these old-style Nationals. When I got it, I couldn't believe it! It was GREAT! And you won't believe it for $650.






BIG, full-bodied jazz guitar
Best buy ever for an L-5! Fancy appointments, available in a metallic red burgundy, black sunburst or blonde for $650.





The Grande Baritone
If I had to choose one guitar, it would be a baritone. Its a 6-string bass, but tuned up. It has a Moses graphite neck with 24-frets, a single cutaway-style body in a blue- or rubyburst body. You have a choice of pickups from active to passive, EMG, Alembic or vintage-style. I can even make it with a thinline type of body. The voicing is tremendous, especially when run through a tremelo reverb amp. Starts at $750


FatDog acoustic bass with pickup $350


---


* Fender®, Stratocaster® and Jazz Bass® are registered trademarks of the Fender Musical Instrument Corporation.

Top of Page


Ordering Merchandise
I understand your concerns about buying a guitar over the Internet. You can't put your hands on it. You don't know what it'll look like, what it'll sound like, how it will feel. Then there are the issues surrounding shipping anxiety: "Will it arrive undamaged?" "When will it arrive?" "WILL it arrive?" The concerns go on and on: "What's the tracking number?" "Will you ship it today?" "When will you ship it?" "Can I get it tomorrow?"


Here are five key points to put your mind at ease:
Your purchase will definitely arrive in good, undamaged condition AND in a timely manner.


Your purchase is insured against damage in transit.


If you don't like what you've ordered, you can return it within two weeks of purchase.


You have the option of a full CASH refund or a trade-in for something else you like. All you pay is the returning shipping, which amounts to about $10 within the Continental United States.


You just can't lose.
Policy
"Experience Ecstacy " for a week with your new guitar. If the instrument is not what you expected, then expect a full refund on merchandise returned in the condition of purchase. Fatdog considers this the backbone of good biz (and happy customers).



NOTE: There is no refund for shipping.

Trade-ins are seriously considered at a high value.

Subway Guitars
1800 Cedar Street
Berkeley, California 94703

(510) 841-4106
noon til six, Monday thru Saturday
Pacific Time