VILLAGE VANGUARD

Jazz and Hollow Body Guitars
Updated 22 April 2006

Some Subway Custom ES-330 jazz guitars:
a la Grant Greene. The walnut finished (left) is $350; the sunburst (right) is $300. Upgraded gears, pickups, bridge and tailpiece






30's lick-mucus:

Solid top. Has had neck rest. Unbelievable voice.$700







Mind-blowing late 40s Kay L-7:

Fat flamed maple neck, deco inlays and solid top. $700







30's Armstrong:

Solid spruce top, like a 20's L-5 (copy). Billy Armstrong -- the Green Boy -- has gotten alot of old guitars from us, and I told him that I had one with his name on it! And he just went: "Eech! who cares?" Has had neck reset, plays real well. Now its yours for $700.







30's Regal Kaycraft:

Solid spruce top, neck reset, remarkable pearloid peghead. $700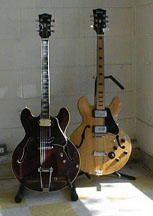 Ibanez Greco 330 copy, set neck, lawsuit status and Ibanez 330 copy

Cochran 295
Locking Gotoh Magnum gears, roller bridge, so you can rock and wank and stay in tune.






Two Kay Guitars
The blonde is a lounge lizard and
the sunburst is like an ES-125.






Monarch and the Marwin Jewel
A couple of nice old jazz guitars we gave our treatment to.











50s L-7 Replica
Deco deluxe. Rockin' phat sound. MIJ 70s Subway-ized. $650






Joe Past dressed for a Panamanian tailor

Joe Past dressed (closeup)

Angel Closeup
Angel: 41 cm version. with custom ebony pickguard and Johnny Smith pickup. An old, old buddie of mine walked in the store. I'd even forgotten about him -- from 25 years ago. He'd been living in Alaska. He was just tearing it up on a jazz guitar. I was sortof blown away and surprised. So I made him this for $700.






Angel Girls
I'm a 16" angel and I moved to Alaska. I have an ebony pickguard and a gold Johnny Smith pickup. A great jazz player has me in his paws for only $700.






Joe Past

Say "Hi!" to Joe Pass. Blonde gold-tone recreation of an early 50s 175. Great be-bop, jazz and blues. Carries on the 40s art deco design tradition with Grover stairstep tuner sand gold tailpiece. Priced from the past at $600.






Gold 295 Style
Set neck. $600






Hoyer 335
Third attempt at an old dot neck sunburst Gibson. GREAT tone. $400






Seafoam Green Rockabilly Guitar
Hoyer made, old German tailpiece, Tutonic f-holes. $500





Hoyer 175
Blonde 175 clone. Old German company. Amorphous tailpiece and pearloid pickguard. More of an electric guitar. $600







Big 17 inch (45 cm) L-5 size Lowell

The Lowell
In the sixties, I had the pleasure of Lowell Folsom's blonde ES-5. Lizard Slim took me to a old jazz guitar store and showed me this guitar he wanted to buy. And I flipped. Lowell Folsom had traded in his ES-5 -- a big jazz guitar with three P-90s -- for a white Falcon. This was like one of those old "fat fart, pipe-smoking jazz guitar stores" -- in the suburbs. Anyway, we got to play it and have it around for a year or two.... When I was a pup, I murdered an old cutaway Harmony, trying to create a Lowell-type of guitar. Thirty-some years later, I've achieved my goals with the Lowell. I start with a beautiful blonde archtop with flame and curley maple, back and sides. Block inlays and even the tit at the end of the fretboard. I've dressed this with three P-90s and the old speed knob arrangement of one volume for each pickup and a master tone in the rounded cutaway. I wire the middle pickup out of phaze for that t-bone tone. This thing is bitchin'. This is one of the most rockin' R&B bad boys out there -- AND great for a true blues tone. $700 (Not $7,000)




MORE JAZZ
---
Ordering Merchandise
I understand your concerns about buying a guitar over the Internet. You can't put your hands on it. You don't know what it'll look like, what it'll sound like, how it will feel. Then there are the issues surrounding shipping anxiety: "Will it arrive undamaged?" "When will it arrive?" "WILL it arrive?" The concerns go on and on: "What's the tracking number?" "Will you ship it today?" "When will you ship it?" "Can I get it tomorrow?"

Here are five key points to put your mind at ease:
Your purchase will definitely arrive in good, undamaged condition AND in a timely manner.


Your purchase is insured against damage in transit.


If you don't like what you've ordered, you can return it within two weeks of purchase.


You have the option of a full CASH refund or a trade-in for something else you like. All you pay is the return shipping, which amounts to about $10 within the Continental United States.


You just can't lose.
Policy
"Experience Ecstacy" for a week with your new guitar. If the instrument is not what you expected, then expect a full refund on merchandise returned in the condition of purchase. Fatdog considers this the backbone of good biz (and happy customers).


NOTE: There is no refund for shipping.

Trade-ins are seriously considered at a high value.

Subway Guitars
1800 Cedar Street
Berkeley, California 94703

(510) 841-4106
noon til six, Monday thru Saturday
Pacific Time



HOME