JAPANTOWN

Kookie Japanese Guitars

Canoepaddles

Early Ibanez
Hound Dog Taylor Trio

More Kookie Japanese

Sharkfin Guitars

Tulip Trio

Univox Trio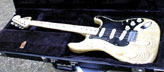 Ibanez '68 Strat re-issue
Serial No. F773632. Lawsuit collector's version. Old-style Ibanez-Fender case. Very clean -- like new. Excellent condition: $800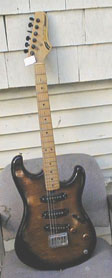 Beautiful flame Roadster
Serial No. F791567. This is top Ibanez stuff. $225





Ibanez Artist
Serial No. J8240804. Mini 335. 14 inch lower bout. $650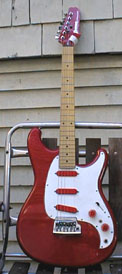 Roadstar II
C84. Japan. Has phaze switch and fiesta-red everything. $225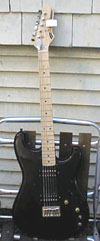 Ibanez Blazer
Two humbuckings. F81. $225





Ibanez
Flame-burst and bound. $325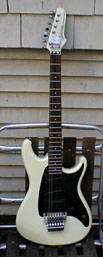 Cream Roadstar II
With push-pull pot humbucking splitter. Heavy wank and floyd setup. $300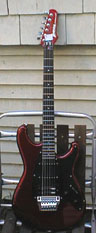 Candy-apple red Roadstar II
RS-440. Push-push pot. Floyd-style wanking bridge. J-85. $250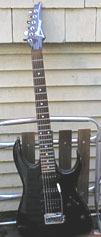 Pointy black rock stick
Shouldn't be in Japantown; should be Koreatown. $200





Candy-apple red RG-350
Two humbuckings and a single. Floyd whammy system. ?konntoo? $275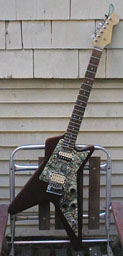 Ibanez Star
Serial No. K83. Customized. $250





Ibanez CN-100
Archtop. GREAT les paul-style instrument. Serial No. D78. $350





FG-100
Sunburst. Serial No. G83. Original case. Inquire





Blonde FG 100
Serial No. F82. 70s Ibanez Jazz guitar. 16 inch lower bout. Like Gibson ES-175. Original case included. Inquire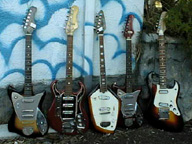 Wild Bunch
Tiesco Tulip with 3-piece pickguard $200, Ibanez Deluxe goldentone longhorn Bison with enough switches to satisfy NASA $250, Tiesco Phantom $250, Tiesco Tulip with 3-piece pickguard $200, Norma Mutant Jazzmaster SG $200






Ibanez Bison
A very early version of an Ibanez Deluxe goldentone longhorn Bison. $250






Weird Tiesco basses








Zimgar. Early 60s Japanese freak with Jetsons z-shaped pickguard. Gotoh gears and tunamatic bridge. $125

Two pickup Tiesco. Early with rocker switches and thumbwheels. $200

Weird, squirrelly, early 60s St. George. Two pickups, rocker switches, iridescent, large, ghost-like pickguard. $200

Binding Kings of Kent say: "Three layers is not enough!" Wine-red, big, bizarre, thin, hollow, SG electric 12. $350

Rodeo. Cute and solid. Primordial Japanese solid-body. Metal pickguard. One over-loaded microphonic pickup. Unique shape, but Zen. New gears and tunamatic. Old clamshell. $175

Tiesco 3 pickup tulip shape. Real early. Weird chrome pickguards. This one is really bizarre. $225

Tiesco Spectrum V, metallic red

Lavender Yamaha butt-ugly strat®. Vox-style retro teardrop with goofy f-hole $375

Univox Strat* with 3 humbuckers -- enough to wake a dead man! $300

French racing-blue Tiesco Phantom (Vox) $250

Two pickup Tiesco tulip guitar $125

Weird Tiesco Tulip chrome 3-piece pickguard. $200

60s Japanese Mustang® copy. $150

Green and black crackle Tiesco Phantom iridescent green pickguard with 2 Ric toaster-style pickups. $250

Metallic blue Dylanesque Tiesco Sharkfin with three pickups. $375

Tiesco Tulip two pickup guitar with good gears and a tunamatic. $150

Early Tiesco electric. 4X2 peghead, striated pickguard. $200

Sunburst Tiesco Phantom copy. Tunamatic and Gotoh gears. $250

Early 60s Houndog Taylor-style Tiesco. Thumbwheels, rocker switches, raised chrome pickguard, tunamatic bridge. $125

Candy-apple-red Tiesco May Queen. Really bizarre boat paddle. Hollow with goofy f-hole. $600

Weird Tiesco MusicLander two pickups, tunamatic, Gotohs, raised chrome pickguard. $175

Various Tiesco' 60s freakozoids. from $200

Tiesco bass. Like jazz bass®. Square magnet pickups. rocker switches. Push-pull pot for phaze. High-tech bridge. 30" scale length. $250

Japanese copy of a Kalamazoo SG -- very cool. Tunamatic Schaller humbucker. $150

* Fender® Stratocaster and Telecaster are registered trademarks of the Fender Musical Instrument Corporation.


---
Ordering Merchandise
I understand your concerns about buying a guitar over the Internet. You can't put your hands on it. You don't know what it'll look like, what it'll sound like, how it will feel. Then there are the issues surrounding shipping anxiety: "Will it arrive undamaged?" "When will it arrive?" "WILL it arrive?" The concerns go on and on: "What's the tracking number?" "Will you ship it today?" "When will you ship it?" "Can I get it tomorrow?"


Here are five key points to put your mind at ease:
Your purchase will definitely arrive in good, undamaged condition AND in a timely manner.


Your purchase is insured against damage in transit.


If you don't like what you've ordered, you can return it within two weeks of purchase.


You have the option of a full CASH refund or a trade-in for something else you like. All you pay is the return shipping, which amounts to about $10 within the Continental United States.


You just can't lose.
Policy
"Experience Ecstacy" for a week with your new guitar. If the instrument is not what you expected, then expect a full refund on merchandise returned in the condition of purchase. Fatdog considers this the backbone of good biz (and happy customers).



NOTE: There is no refund for shipping.

Trade-ins are seriously considered at a high value.



Subway Guitars
1800 Cedar Street
Berkeley, California 94703

(510) 841-4106
noon til six, Monday thru Saturday
Pacific Time



HOME