SOUTHPAW PARKWAY

Left-Handed Guitars
Dateline: Tuesday, 29 March 2005 Fatdog is still in the same situation: too much stuff.

The move to 1800 Cedar was six weeks of daunting, strong-arm labor.
Plenty was unearthed; things resurfaced after 30 years
in the corner, in the back, in the dark.

Let Fatdog fetch it: give him a call and let him make you something nice.


Left-handed players: you will see some left-handed instruments on our inventory list, but due to the technology from companies like Warmoth, we have available to us a countless array of left-handed necks and bodies made of different woods. There's usually a 10% surcharge from these vendors to make a left-handed neck or body, but when you're dealing with wholesale prices, the difference is almost a moot issue.

Many Subway Creations are made from new-old stock bodies that are finished and bound, but have no pickup holes or control holes for the wiring. We can fit them with left-handed or symetrical necks and make left-handed versions at almost no extra charge.

Many south-paws are ecstatic with their custom-made left-handed instruments they've gotten at Subway.




Lefty fretless jazz bass
Warmoth neck, ebony fretboard with sissy lines. Alnico jazz bass pickups and ebony control plate.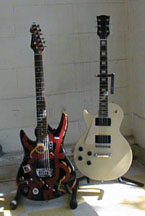 Modern art Punkifier
-- a Peavey Milestone USA punkfier (lefty) and a lefty les paul copy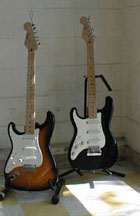 USA lefty Strat and a USA lefty Elite Strat

Lefty fretless jazz bass
Warmoth neck, ebony fretboard with sissy lines. Alnico jazz bass pickups and ebony control plate.









Lefty Subraze Bass
Schaller bass gears and active EQ switch. Heavy-duty bass bridge. USA neck and body. $400






Lefty Single-cutaway
Boy! Are you south-paws lucky! We've just got a bunch of these USA-made lefty Tele* things. Choice of colors and electronics are yours. This brown beauty is $400. I chose to make this one more traditional, but if you want to get out there, let me know: ?Humbuckers? Lipstick tubes? Even a 5-string is possible. Active electronics.






South-paw's Ruby
Lefty ash strat* with big peghead reminescent of the late 60s. Three Alnico pickups and beautiful satin ruby-stained finish. $400




Fiddle guitar with mini-humbuckers. $375

Westone (Ibanez) SG-strat* thang. Humbucker, set neck. $325



Kustom Kandy apple red Jaguar. Matching headstock (no upper controls). $725

Strat*, off-white, maple neck, 4-bolt conversion, black pickguard. $500

Wannabe Les Paul knockoff. Black, sealed gears with OHSC. $250

Black strat*, gold hardware. $325

White strat*. Wilkinson bridge. $300

Blue strat*. Wilkinson bridge. $325

Baby blue 70s Fender® Mustang. $700

* Fender® Stratocaster, Telecaster and Mustang are all registered trademarks of the Fender Musical Instrument Corporation.


---
Ordering Merchandise
I understand your concerns about buying a guitar over the Internet. You can't put your hands on it. You don't know what it'll look like, what it'll sound like, how it will feel. Then there are the issues surrounding shipping anxiety: "Will it arrive undamaged?" "When will it arrive?" "WILL it arrive?" The concerns go on and on: "What's the tracking number?" "Will you ship it today?" "When will you ship it?" "Can I get it tomorrow?"


Here are five key points to put your mind at ease:
Your purchase will definitely arrive in good, undamaged condition AND in a timely manner.


Your purchase is insured against damage in transit.


If you don't like what you've ordered, you can return it within two weeks of purchase.


You have the option of a full CASH refund or a trade-in for something else you like. All you pay is the return shipping, which amounts to about $10 within the Continental United States.


You just can't lose.
Policy
"Experience Ecstacy" for a week with your new guitar. If the instrument is not what you expected, then expect a full refund on merchandise returned in the condition of purchase. Fatdog considers this the backbone of good biz (and happy customers).



NOTE: There is no refund for shipping.

Trade-ins are seriously considered at a high value.


---
Subway Guitars
1800 Cedar Street
Berkeley, California 94703


Telephone: (510) 841-4106
noon til six, Monday thru Saturday
Pacific Time



HOME