WANKERVILLE

Metal & Punk Guitars
Updated 22 April 2006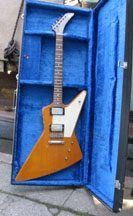 The Ibanez Destroyer:

a rockin' Holy Grail -- before Eddie van Halen had any sense, he played one of these. Made in Japan circa 1978.






We don't know who was smoking what, but these guitars should never have been allowed in the door! I can't listen to one more puebo-guitar solo from this pile. SO... here they are, real cHEAp!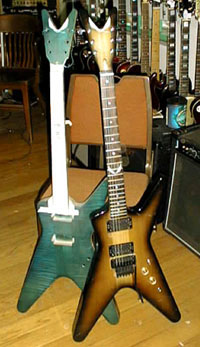 Dean MLs
This is part of the old Dean stock
that we got that was unassembled.
The brownburst is one that we assembled
and the blue one is on deck.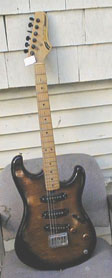 Beautiful flame Roadster
Serial No. F791567. This is top Ibanez stuff. $225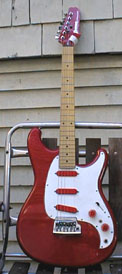 Roadstar II
C84. Japan. Has phaze switch and fiesta-red everything. $225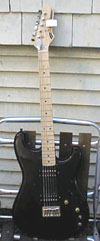 Ibanez Blazer
Two humbuckings. F81. $225




















Ibanez
Flame-burst and bound. $325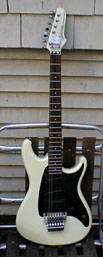 Cream Roadstar II
with push-pull pot humbucking splitter. Heavy wank and floyd setup. $300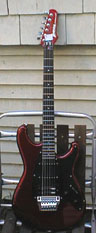 Candy-apple red Roadstar II
RS-440. Push-push pot. Floyd-style wanking bridge. J-85. $250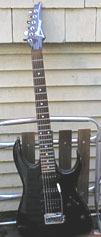 Pointy black rock stick
Shouldn't be in Japantown; should be Koreatown. $200




















Candy-apple red RG-350
Two humbuckings and a single. Floyd whammy system. ?konntoo? $275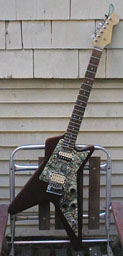 Ibanez Star
Serial No. K83. Customized. $250




















Ibanez CN-100
Archtop. GREAT les paul-style instrument. Serial No. D78. $350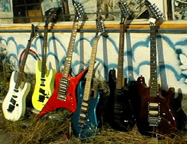 Nasty, pointy, pud-pullers!
We call 'em Krammits" -- heavy metal sticks that screech and squeal and make god-awful noises. They should have been banned at the door, but they were such good quality guitars, we had to offer the welcome mat. There's probably 30 of these things hiding in the Subway inventory -- and we hate 'em. Crushed red pearl Night Swan, short (Gibson)-scale, ebony fretboard -- a top-quality instrument. Three humbucking blue rock star "thang" with a star on it -- so some dweeb named Ricky Sanborn would remember who he was. Red Focus 5000 -- wanted to be the pointiest guitar on Planet Earth; it could be a gruesome marshall arts weapon. Whoever designed this should be in a padded cell. Bile yellow, black and white jerk-and-spurt models. These have USA parts (I actually think the necks and bodies were made in Canada). Don't let me look at these things another day! from $300


Black USA Dean V. White binding. Floyd. Zebra pickups. $700

Platinum Flying V. Probably by Ibanez. Killer humbuckers. Was in a TV commercial for video games. $375

We're embarrassed by this Dean ML. Neck-through atrocity. Blueburst with a lightning graphic played by some dweeb named Darryl. $800

Red Explorer clone with glued-in neck. Schaller Zebra humbuckers. Non-trem gold bridge. High tech. $300

Explorer copy. Glued-in neck, gold hardware. Binding. New. Strings through back. $300

Nasty, pointy kramit (Kramer American) with erect peghead, metallic red. Floyd. Two singles and a humbucker. Pull your pud for only: $325

White kramit (Kramer American). Three on-off switches, Floyd, wanker's dream. $325

Blue kramit (Kramer). Two humbuckers with a Floyd to jerk and spurt with. USA. $325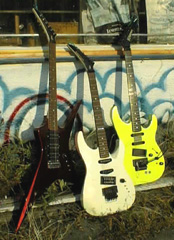 Three freaks


















Metal pointy Ibanez RG. Sleek red maple. Floyd. Two humbuckers with a single coil in-between. Must have poodle-doo haircut, PLUS.... $300

Peavey Tracer. Black-on-black with Floyd. $325

White Charvel. Gold hardware. Erect peghead. Two singles and a humbucker. USA. $500

Nasty, pointy black krammit (Kramer). Two humbuckers, Floyd. Pud-puller's dream. $350

Most pointy guitar in show business! Kandy-apple red. Lethal! Alien! Kramer. Focus 5000. USA. Three humbuckers. Three on-off toggles. One volume. $400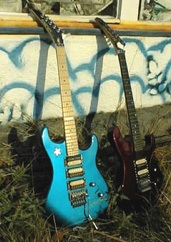 Two freaks
Ordering Merchandise
I understand your concerns about buying a guitar over the Internet. You can't put your hands on it. You don't know what it'll look like, what it'll sound like, how it will feel. Then there are the issues surrounding shipping anxiety: "Will it arrive undamaged?" "When will it arrive?" "WILL it arrive?" The concerns go on and on: "What's the tracking number?" "Will you ship it today?" "When will you ship it?" "Can I get it tomorrow?"


Here are five key points to put your mind at ease:
Your purchase will definitely arrive in good, undamaged condition AND in a timely manner.


Your purchase is insured against damage in transit.


If you don't like what you've ordered, you can return it within two weeks of purchase.


You have the option of a full CASH refund or a trade-in for something else you like. All you pay is the return shipping, which amounts to about $10 within the Continental United States.


You just can't lose.
---
Policy
"Experience Ecstacy" for a week with your new guitar. If the instrument is not what you expected, then expect a full refund on merchandise returned in the condition of purchase. Fatdog considers this the backbone of good biz (and happy customers).



NOTE: There is no refund for shipping.

Trade-ins are seriously considered at a high value.



Subway Guitars
1800 Cedar Street
Berkeley, California 94703

(510) 841-4106
noon til six, Monday thru Saturday
Pacific Time



HOME