NAZARETH

Acoustic Guitars
PART I
Updated 22 April 2006



Mystery instrument:

Spruce and rosewood, OLD, possibly a Portugese bandoura. Note the doglike-face created by the sound holes. I personally felt attached to that design. $400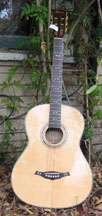 Circa 1920s 00-28 replica
$225

Solid spruce top, quasi-rosewood back and sides, fancy inlays and slotted peghead.




Acoustic-electric Hohner EA-55
$1000

Epiphone AJ-40
$350

Takamine EF-341c
$350
Ibanez AE-405
$350

Jasmine ES-81c
$300

Alvarez RF-20c
$300

Fatdog PS-213c
$325

Weird Fatdog PY-300f
$300

Ric 'n Clone
with t'seye f-holes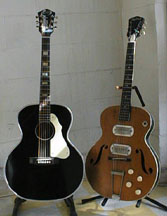 Roy Smeck large 50s Harmony with aluminum binding
wants to be a dining room table when it grows up. Shown with a Roy Smeck Harmony ES-125 style archtop deep body.









Taj Mahal's L-7 and L-50

Taj Mahal's National Guitar

Three square-neck acoustics
1960s Teutonic terrors.
If you're not scared yet, you should be: terror from the heart of Bavaria. German's idea of a folk guitar, with a bolt-on propeller wood neck, goofie string trees and in the heavy metal bolt-on bridge. These guitars have laminated tops. I have also some that have solid German spruce tops -- really good guitars.






Silvertone L-7
with beautiful rubyburst and floating Lawrence pickup. A typical Fatdog guitar from the 50s. $400






Silvertone L-7 Neck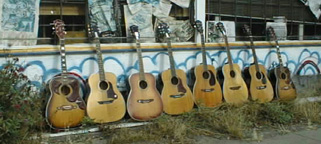 Harmony Herd
Here's the largest herd of Sovereigns on Planet EARTH! Variations from Regal, Silvertone, Harmony and Harmony Sovereign Deluxe. For years we called these "the poor man's D-18". These are all solid woods and straight-braced. The neck reset and pin bridge greatly improve their sound; the Schaller tuning machines keep them in tune. A great value for 60s folk guitars at $400 each.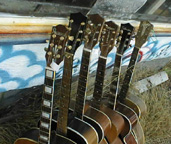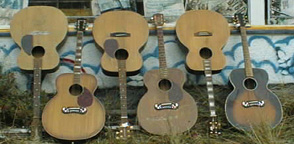 Kay 200s
A fleet of Kay 200s from the 50s and 60s. Solid spruce tops, big figure-8 bodies, 26" scale-length, from Sherwood, Silvertone, Orpheum and Kay. Straight-braced, and 17" wide (although they did make some that were X-braced). Rich, thick sound. Schaller or Gotoh gears. You can be Elvis in Y2Kay for $400.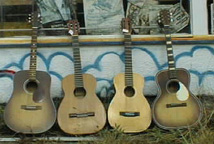 Proletarian Lineup
Proletarian specials from Subway's 50s and 60s bargains. Kay D-size with neck reset and pin bridge, $160. All solid wood Harmony Classic with surprisingly good tone, $200. 0-size Harmony with neck reset and pin bridge. A finger-picking delight, $150. 000 Kay, $150.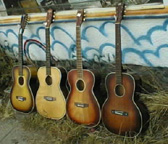 Quartet of 000s
Lead Junior Stella 12 $250; Silvertone and Stella 6-strings $175; Stroboscopic-bound Oahu $250. All have had neck resets and pin bridges. We have lots of these. These are the proletarian end of the Kay and Harmony factories.






10-string solid spruce top Quartro-thang.
Don't know what to do with it, but we've got a bunch of 'em. There's actually some Portugese instrument like this. $175.





J-200
Beautifiul abalone inlay. Pearl rose inlay at 12th fret, flame maple back and sides. Solid spruce top. $300






Cutaway J-200
Shaded top, 4-band EQ, solid spruce top, mahogany back and sides. $375






Cutaway Dreadnaught
Beautiful abalone rosette. D-size cutaway, 4-band EQ. Flame maple, back and sides. Offset fretboard inlays. Old style "V" neck. $325






Goya 60s Folk Guitar
German spruce top, X-braced, similar to Martin 000-18. Plays and sounds GREAT. $400







Deluxe Harmony Sovereign
All solid wood BIG screaming tortoise pickguards and engraved peghead overlay. Schaller gears. One of six beauties. $400






Classic 60s Harmony Sovereign
All solid wood. Smooth sound from straight braces, like big Martin D-18. Schaller gears and pin bridge. $400





from top left:
Kay J-200,
Harmony Sovereign,
000-17,
000 Kay with checkerboard binding


Martin D-18 replica. Subway special. Solid spruce top, X-braced, high-tech gears. $225.

Martin D-35 #417858 $1000

ALIVE from Death Row! D-size cutaway with pickup and EQ. Traded by Quentin inmate. $300

Martin butt-packers $125

Harmony BIG Leadbelly size 12-string $400

High-quality full-size Ferrington acoustic with goofy triangular sound hole and cutaway. Built in pickup. Solid spruce top $500

Elmo 50s Kay D-18 rosewood bridge patch and shaved braces $350


More Acoustic Guitars
---
Ordering Merchandise
I understand your concerns about buying a guitar over the Internet. You can't put your hands on it. You don't know what it'll look like, what it'll sound like, how it will feel. Then there are the issues surrounding shipping anxiety: "Will it arrive undamaged?" "When will it arrive?" "WILL it arrive?" The concerns go on and on: "What's the tracking number?" "Will you ship it today?" "When will you ship it?" "Can I get it tomorrow?"

Here are five key points to put your mind at ease:
Your purchase will definitely arrive in good, undamaged condition AND in a timely manner.


Your purchase is insured against damage in transit.


If you don't like what you've ordered, you can return it within two weeks of purchase.


You have the option of a full CASH refund or a trade-in for something else you like. All you pay is the return shipping, which amounts to about $10 within the Continental United States.


You just can't lose.
Policy
"Experience Ecstacy" for a week with your new guitar. If the instrument is not what you expected, then expect a full refund on merchandise returned in the condition of purchase. Fatdog considers this the backbone of good biz (and happy customers).


NOTE: There is no refund for shipping.

Trade-ins are seriously considered at a high value.



Subway Guitars
1800 Cedar Street
Berkeley, CA 94703

(510) 841-4106
noon til six
Monday thru Saturday
Pacific Time

E-mail FatDog if you're out of the country.
It is best to call for a speedy response.



HOME