Super Discounted Bargains


The dynamics of the Internet create a dimension where retail customers can obtain high-quality musical instruments at incredible bargain pricing.

When you take away the overhead and other costs associated with a retail store, the Internet customer can save and experience an exceptional deal. I have selected from various vendors that we feel are the best deals on the most often requested instruments.

We are presenting the following instruments according to these premises.

STRINGS

AMPLIFIERS


GUITARS AND BASSES
(G-1) Dobro-style resonator guitar
This is a replica of a 1930s wood body Dobro. It really has the sound -- and has the modern appointments including a thinner, more comfortable neck, due to an adjustable trussrod PLUS high quality enclosed tuning gears. It sounds, plays and feels like the real thing. It comes in a brown satin finish with chrome hardware and resonator cover. List price is about $600; our price: $275







(G-2) Electric bass guitar
This is similar to a traditional *Fender® precision bass. Long-scale neck (34"), solid wood body, split precision bass pickup, 4-way adjustable bridge for perfect intonation and well-functioning trussrod to ensure a straight neck. Its available in black or ivory. List price for a comparable instrument is about $400; our price: $175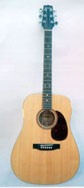 (G-3) Traditional Martin-style acoustic guitar
This is perhaps the best of all we're offering. Its a replica of a very fancy Martin D-28. The top is solid spruce and its X-braced with rosewood back and sides, inlayed with black and white bindings. The neck has old, traditional, diamond snowflake inlays for fret position markers and is equipped with high quality enclosed tuning machines. Even if you forget about the fancy stuff, the sound quality is similar to instruments starting at $600. Our price: $250







(G-4) Gibson-style Les Paul with set/glued-in neck
Cherry sunburst finish over book-matched flamed maple top. Les Paul-style solid body guitars are re-appearing as a musician's favorite, hence, I offer at $350. The list on similar guitars is around $900. This comes with humbucking pickups, a tunamatic bridge, and vintage-style Kluson tuners and is very reminiscent of a classic 1958 Les Paul. Sounds good at all volumes.






(G-5) Fancy all-carved mandolin
This is a mandolin player's dream. It is a high-quality replica of a 1920's F-5 style mandolin, constructed with all solid woods. The appointments are beautiful; the carvings, the binding-work and the pearl inlay are remarkable. The finish duplicates a hand-dyed sunburst found on the masterpieces by Gibson craftworkers at the early part of the century. The list price on this instruments is around $1200; Our price: $450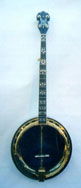 (G-6) Pearl inlayed 5-string banjo
We recommend sunglasses to look at this incredibly ornate pearl inlayed banjo. Its a reproduction of a traditional 1920'-style Gibson Mastertone. Its all gold-plated with incredible pearl inlays throughout. The back of the peghead and heel are carved like an ornate gunstock. The tone ring gives it an incredible voice. Its fitted with traditional-style planetary tuning machines and ornate resonator. I've seen similar models listed at $1800. Our price: $500







(G-7) Nylon string classic
Beginners need stuff, too. This is one of the best quality entry-level instruments we can offer. Our price: $100







(G-8) Budget steel string guitar
This is a very good quality steel string replica of a Martin D-18. Its your typical, entry-level guitar, pretty durable and travels well. It has a solid inlay saddle in the bridge and adjusting rod in the neck to keep the neck perfectly straight. A good price at $125.





(G-9) Traditional style electric guitar -- double cutaway
Every body wants a vintage * Strat®! But who can afford them? I've chosen this instrument for its excellent features and budget price. The body is solid wood and is equipped with a high-quality tremelo bridge that raises -- and lowers -- the pitch. This is usually accomplished by a high-tech system that is more trouble than its worth, but the bridge on this is in the traditional style and does a very good job. The electronics system comes with a humbucking lead pickup at the bridge and two traditional single coils in the neck and middle position. The neck is excellent quality with a good trussrod system; it has high quality enclosed tuning gears. Colors: ivory, black, metallic, blue, red, sunburst. Similar instruments list for at least $400. Our price: $175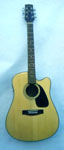 (G-10) Cutaway acoustic guitar
This is a professional quality solid spruce top, modern guitar. Its cutaway allows access for solos on the upper frets. The back and sides are mahogany. The top bracing is the traditional Martin X-style and it comes with high-quality enclosed tuning gears. The guitar has a transducer pickup installed under the bridge and comes with a three-band graphic equalizer. It has a really good sound. List price is over $600. I'm offering this at $300.





FatDog's solid top D-28 replica $250


Amplifiers
This is a trio of amplifiers that I have selected to offer at bargain prices. I really like these amps because they're upholstered in a blonde tweed fabric that is reminiscent of the 50s era Fender® amps. In fact, they look very similar.

(G-11) The bedroom-style amp. Its pretty loud with distortion, but definitely in the realm of a practice amp. $50

(G-12) The garage jam amp. It gets pretty loud. It is rated at 20 watts and has reverb. Your folks or neighbors will definitely yell "TURN IT DOWN!" $100

(G-13) The closed back bass practice amp. Its not loud enough to perform with, but loud enough to practice and jam with. They all come with headphone jacks and alot of adjustable tone settings. If you play it loud with the headphones, you'll probably be saying "WHAT?" for the rest of your life anytime someone talks to you. $100

(G-14) Professional quality heavy-duty guitar cable/patch cord. Connect your instrument to the amp. There's alot of cheap cords that just crap out on you -- and I won't be bothered with them. I'd rather just offer this one really good one that comes with a five-year warranty. You could probably spend $20 for something like this of USA quality. I sell it for $8.

* Fender® and Strat® are registered trademarks of the Fender Musical Instruments Corporation.


---

How We Make a Difference!
We've got THOUSANDS of parts in stock to repair and upgrade your instrument


We'll search our TREMENDOUS STOCK for the particular instrument or part you seek


Call the store and SPEAK DIRECTLY WITH REPAIR TECHNICIANS


TRADE-INS are seriously considered at a high value
Ordering Merchandise
I understand your concerns about buying a guitar over the Internet. You can't put your hands on it. You don't know what it'll look like, what it'll sound like, how it will feel. Then there are the issues surrounding shipping anxiety: "Will it arrive undamaged?" "When will it arrive?" "WILL it arrive?" The concerns go on and on: "What's the tracking number?" "Will you ship it today?" "When will you ship it?" "Can I get it tomorrow?"


Here are five key points to put your mind at ease:
Your purchase will definitely arrive in good, undamaged condition AND in a timely manner.


Your purchase is insured against damage in transit.


If you don't like what you've ordered, you can return it within two weeks of purchase.


You have the option of a full CASH refund or a trade-in for something else you like. All you pay is the return shipping, which amounts to about $10 within the Continental United States.


You just can't lose.
Policy
"Experience Ecstacy" for a week with your new guitar. If the instrument is not what you expected, then expect a full refund on merchandise returned in the condition of purchase. Fatdog considers this the backbone of good biz (and happy customers).



NOTE: There is no refund for shipping.

Trade-ins are seriously considered at a high value.



Subway Guitars
1800 Cedar Street
Berkeley, California 94703


Telephone: (510) 841-4106
noon til six, Monday thru Saturday
Pacific Time