THE CONTINENTAL DRIFT

European Guitars

Row of Vox Electric Guitars

Roke Guitar (Dutch)

RangeMaster Trio

Italian Drek

Hagstrom Trio

Eko Condor

Euro-drek
Eko Dragon and a Framus 330












Three Hagstroms

Three Dreck Sticks
A sample of Euro-dreck from HUNDREDS of instruments we have in this category. These we call "Italianate dreck-sticks.". (From left) The first one is a 4-pickup Eko Lancer. The middle is the scary halloween Scalia -- orange and black sunburst. The far right is two-pickup Lancer. These things go for $300-$400, generally. We have them coming out of our ears, and each one is different.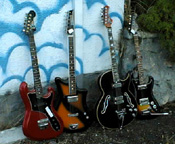 Italianate Dreksticks
Here we have a red EKO Cobra $300, a scary halloween D'Scala $300, a top-of-the-line EKO Dragon sporting a fancy ebony inlaid fretboard $500 and a twin pickup Cobra $350.






EKO Trio: (from left) FD-10, Cobra-12 and the Florentine
Here is a trio of new/old stock EKOs. Its a sampling of the hundreds of EKOs that we've sold over the years. The EKO fiddle bass has the faux abstract scroll in the peghead. One of the first ones went to Les Claypool, who flipped over it. He's stilling flipping over it. We sold about 40 of them after Les made it famous. Anyway, its time for these EKOs to emerge from their premature grave in our warehouse and move into the hands of those desiring demented, bizarre and weird instruments. I pictured these three, since we have quite a stock of them. I'll be adding more models of EKOs as soon as we can fix 'em up.

The FD-10 is a mini-archtop blues/jazz cutaway guitar, dressed with a variety of electronics. from $325

The Cobra-12 (middle), showing off its new/old stock hang-tag in Italian, really has that 60s Vox 12-string sound. Its offered at a very reasonable price of $350. It has a fairly wide flat neck and is very lightweight, reminiscent of those 60s Voxes.

The award-winning, most demented guitar of the year -- the Florentine (right) -- is an inflated hollow SG with psychedelic styling that never made it in the 60s. This one was a loser. It even lost trying to look somewhat "satanic" -- with its horns. For you dudes who are concerned and think length matters, you'll be thrilled with this. It has one of the longest whammy bars in the universe. It has a haunting, great blues tone and (finally) cool looks. It took the neo-psychedelic revolution for it to come into its own age.

We were down in the dark, dingy bowels of the EKO warehouse and there were these big heater ducts that we had to climb around. I came upon these giant coffin-like cardboard boxes and plunged my hands into them -- not knowing what was down there. It was a little scary. To my great surprise, I pulled up white toiletseat-covered EKO stratoid* bodies, brand new. They'd been lingering there for 30 years. Maybe 25 of them. I was heaving them across the room in darkness -- almost like frisbees. On some other floors of the warehouse we found the necks and the really colorful mother-of-jackknife pickguards that were loaded with a bunch of sliding accordian switches. We're gonna bring these up and start assembling them soon.

These were the real "treasures" of the EKO excavation. Alot of the L.A. guys -- like Jackson Browne -- used to play these. We call them "Jackson Browne" guitars today. You've all heard of double cutaway stratoid* things -- some of these are triple cutaway -- like some big monster down in those boxes took a big bite out of a guitar around where the jack would normally go.

Subway Vox. Hollow teardrop with doofus f-hole. Sunburst finish, spoon peghead, two pickups. $350

Eko thin hollow ES-125. Two chrome soapbars. Round cutaway. Sunburst. Real cool. $350

Italian Goya. Thin jazz guitar. Wine red, round cutaway, two black soapbars. Clean. 60's. $350

Italian Vox-built España. Copy of ES-330. Two weird humbuckers. 60's. $275

60s Hofner Strat*. Sunburst. $300

Red 60s Hagstrom SG. Two humbuckers. Really thin Strat*-style neck. $250

60s red Hofner Strat*. $300

Old Vox Meteor. Beak-like peghead, sunburst. Clean. $350



The Fiddle Axe
Quasi-retro Vox utilizing a 35-year-old new/old stock big fiddle body, outfitted with mini-humbuckers (or your choice of pickups) with the 3X3 Heritage-style neck. Quality gears and bridge. from $375





Rok 12 by Eko. Ebony fretboard, like flying "V".

NOS Eko. Solid body 12. 60s sunburst with humbucking. $350

El Rayo-X 60s Hofner Stratoid*. Really weird inlays, bizarre pearl tuning gears, 3 single-coil pickups. Lots of wheels and switches. Mute. $325

60s fiesta red Hofner Strat* stang $325

3-pickup Hofner Strat* with enough switches and thumbwheels for a NASA launch $375

Halloween: D'Scala scary orange and black sunburst. 60s Vox family Italian nightmare. 60s. $300

60s Vox Phantom 12 Subway thaing. $600

Clean Sunburst Hagstrom II $325 Gunmetal grey Phantom three mini-humbuckers and a Bigsby. $400

60s EKO Cobra Italian beveled Mustang*-style. New/old stock. $350

Mother-of-attache-case red naughahide upholstered Hofner. German. 60s. Stratoid* V. $400

Les Claypool Eko fiddle bass $350

60s Vox Harlem. Two pickups with quasi-scalloped fretboard. Burst and unique. $375

Plastique Hagstrom *Stratoid, w/black naugahide. $350

Transitional Hagstrom *Stratoid. Pre-SG body, red wood with molded plastic pickguard. Weird and rare. $300

EKO vile fiddle bass. Pukey-tan, more or Les with orig. grey coffin case. $400

Red 60s Hofner Mustang* bass. Two pickups. $400

Hofner Switch King three pickup stratoid* with whammy, loaded with thumbwheels, slide switches and rotary switch. Fancy inlays in neck. 60s. $400



Retro Teardrop Vox
Goofy f-hole and doofus peghead from 60s NOS. $350





* Strat® is a registered trademark of the Fender Musical Instrument Corporation.






Ordering Merchandise
I understand your concerns about buying a guitar over the Internet. You can't put your hands on it. You don't know what it'll look like, what it'll sound like, how it will feel. Then there are the issues surrounding shipping anxiety: "Will it arrive undamaged?" "When will it arrive?" "WILL it arrive?" The concerns go on and on: "What's the tracking number?" "Will you ship it today?" "When will you ship it?" "Can I get it tomorrow?"


Here are five key points to put your mind at ease:
Your purchase will definitely arrive in good, undamaged condition AND in a timely manner.


Your purchase is insured against damage in transit.


If you don't like what you've ordered, you can return it within two weeks of purchase.


You have the option of a full CASH refund or a trade-in for something else you like. All you pay is the return shipping, which amounts to about $10 within the Continental United States.


You just can't lose.
Policy
"Experience Ecstacy" for a week with your new guitar. If the instrument is not what you expected, then expect a full refund on merchandise returned in the condition of purchase. Fatdog considers this the backbone of good biz (and happy customers).



NOTE: There is no refund for shipping.

Trade-ins are seriously considered at a high value.



Subway Guitars
1800 Cedar Street
Berkeley, California 94703

(510) 841-4106
noon til six, Monday thru Saturday
Pacific Time