KOOKIE DOOKIE
Fatdog is unleashing upon the world
weird, wild, bizarre and demented Eurodrek instruments --
including 60s guitars made in Sweden, England, Italy, Holland, Germany.

See rollerwheel pots, switches and weird tremelo systems,
push buttons and (of course) glitter!

Bizarre 60s and 70s Japanese guitars (MIJ) --
psycho-stuff with raised chrome pickguards,
pegheads as long as the fretboard

with elements of design and style
coming from some foreign minds.



Kramer strat-acoustic

Telecoustic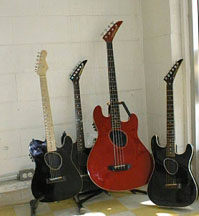 Farrington Family Portrait
with brothers, sisters, acoustic strats, teles and bass









Red Farington acoustic P-bass
Part I: Eurodrek

(From left)
301A: Welson
301B: Eko 4-pickup
301C: Eko 12-string











(From left)
302A: Hoyer with removable neck, big thumbwheel with a mute
that screws up and down, lots of switches and thumbwheel controls
302B: Moderne by Eko thin hollow body
302C: D'Scala Italian Halloween guitar











(From left)
303A: Vox Invader Moserite style, ebony fretboard with built in
distortion e-tuner, repeater and treble bass boost, palm wah-wah
303B: Hofner Stratoid
303C: Mini 330 hollow Eko (new/old stock)











(From left)
304A: Italian Espana ES 330 style
304B: Framus ebony fretboard with block like ES-335
304C: Red sparkle Eko with push buttons










(From left)
305A: Eko ES-175
305B: Dutch Egmond with pearloid pickguard
305C: Welson Star Master like Jaguar











(From left)
306A: Hollow Eko thin body jazz guitar
306B: Eko Stereo Lancer with lots of knobs and 3-way switches
306C: 60s Hagstrom that is plastique and mother of naugahyde












(From left)
307A: Goya Range Master pickup covers, three strings
307B: Eko similar to an ES-175 with a rounded cutaway
307C: Egmond mother-of-naugahyde with mother-of-toiletseat pickguard











(From left)
308A: Hofner with tons of thumbwheels, switches and mute
308B: Fancy Eko 7-string with ebony fretboard and Bill Lawrence blade pickups
308C: Eko Lancer











(From left)
309A: Hagstrom 3 pickups and lots of slide swiitches
309B: Mini hollow Eko Bluebird with a big baseball bat neck
309C: Hagstrom pickup -- lots of switches











(From left)
310A: Eko hollow Bluesbird
310B: Eko Stereo Lancer
310C: Hofner Mustang type of thing











(From left)
311A: Hofner Stratoid with lots of switches
311B: Hagstrom plastique -- red naugahyde
311C: Blue sparkle Eko











(From left)
312A: English Vox Strat
312B: Vox Super Meteor
312C: Hoyer electric 12 string with 3 pickups, removable neck










(From left)
313A: Vox Hurricane
313B: 3 pickup English Vox
313C: 3 pickup English Vox











(From left)
314A: Framus -- big 330 with a solid top from Germany
314B: Hoyer stratoid with removable neck
314C: English Vox Club Man











(From left)
315A: Early 60s Framus set neck that is hollow but looks like solid body
315B: 3-pickup Hagstrom SG
315C: Vox Meteor











(From left)
316A: Ugly Framus mutated SG
316B: Hagstrom black, plastic, naugahyde
316C: English Vox Shadow











(From left)
317A: 2-pickup Hofner Strat
317B: 3 pickup Hofner Strat with lots of buttons and knobs
317C: Klira Cats'eye Bass offset body











(From left)
318A: English Vox Ace
318B: Ugly Framus Mustang
318C: Vox Meteor











(From left)
319A: Klira Fiddle Bass with cats'eye f-holes
319B: Hagstrom Stratoid that was transitional from plastic to wood body (circa 1965)










Give Fatdog a call about pricing; these babies are tagged to move!
---
Ordering Merchandise
I understand your concerns about buying a guitar over the Internet. You can't put your hands on it. You don't know what it'll look like, what it'll sound like, how it will feel. Then there are the issues surrounding shipping anxiety: "Will it arrive undamaged?" "When will it arrive?" "WILL it arrive?" The concerns go on and on: "What's the tracking number?" "Will you ship it today?" "When will you ship it?" "Can I get it tomorrow?"


Here are five key points to put your mind at ease:
Your purchase will definitely arrive in good, undamaged condition AND in a timely manner.


Your purchase is insured against damage in transit.


If you don't like what you've ordered, you can return it within two weeks of purchase.


You have the option of a full CASH refund or a trade-in for something else you like. All you pay is the return shipping, which amounts to about $15-$20 within the Continental United States.


You just can't lose.
Policy
"Experience Ecstacy" for a week with your new guitar. If the instrument is not what you expected, then expect a full refund on merchandise returned in the condition of purchase. Fatdog considers this the backbone of good biz (and happy customers).



NOTE: There is no refund for shipping.

Trade-ins are seriously considered at a high value.



Subway Guitars
1800 Cedar Street
Berkeley, California 94703

(510) 841-4106
noon til six, Monday thru Saturday
Pacific Time