NEW STOCK

Fresh inventory
and you're seeing them FIRST!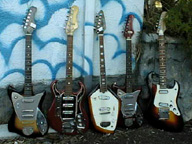 Wild Bunch
Tiesco Tulip with 3-piece pickguard $200, Ibanez Deluxe goldentone longhorn Bison with enough switches to satisfy NASA $250, Tiesco Phantom $250, Tiesco Tulip with 3-piece pickguard $200, Norma Mutant Jazzmaster SG $200






Ibanez Bison
A very early version of an Ibanez Deluxe goldentone longhorn Bison. $250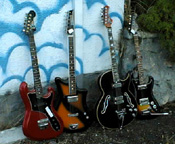 Italianate Dreksticks
Here we have a red EKO Cobra $300, a scary halloween D'Scala $300, a top-of-the-line EKO Dragon sporting a fancy ebony inlaid fretboard $500 and a twin pickup Cobra $350.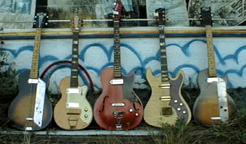 Kay Family Portrait
This is a result of too much in-breeding. Ridiculously short-scale bass -- I'll probably make it into a guitar $250. The Kay Copper les paul -- these are cool. $350. Dormanmu with flame peghead and old P-90 pickup. Great blues guitar $250. Goldtone curley maple lounge lizard drekstick. $400. The hollow Kay les paul shape. We call this model "The Crop" -- a great blues guitar. Steve Cropper got one from us. Recently, we saw Jackson Browne and Shawn Calvin playing one of these. We probably have a dozen of 'em in stock in all different permutations of pickups and pickguards. $250.






Dormanmu
The Dormanmu with flame peghead and old P-90 pickup. Great blues guitar $250. The lounge lizard $400.






Harmony Jizzcaster
We sell 'em for $200-$300, depending on what's happening with them (pickup type, etc.).






Harmony Jizzcaster and Stratotone*
These were the really cool proletarian guitars. We have dozens of 'em -- in various states. The Stratotone* is like a hollow les paul and the Jizzcasters are similar to a Jaguar or Mustang* with a 24" scale length. We used to call these "substangs.". They go for $200 - $300, depending on the appointments (pickups, gears, bridge) . We dress them with sealed Gotoh gears and have found some GREAT narrow-spaced metal tunamatic bridges. We usually use assorted pickups from strat*, Ric toaster, or Firebird, depending on what the technician feels like and what voicing the customer might be after. They're from the 50s and 60s and are of good quality.







Gene V with RMC electronics

Gene V with RMC electronics (full body view)
The custom request for the Gene V with the RMC electronics system. It has a Piezo bridge with individual saddle. It can be used with a synthesizer -- OR it has a really good acoustic sound. You can blend it with the passive Dunkmore Semen pickups. Its a very simple and tidy installation and has alot of control over the voicing and shaping of the sound. For an extra note, we decided to go with an ebony pickguard (which I think we might start including in all models). It gives a handsome and elegant touch. (The RMC system is not as expensive as it would seem....)






Big Mama, Pops and Baby -- the nuclear family
Black Heritage 335 used by T.J. Kirk ("funkmeisters" John Schott and Charlie Hunter) playing Thelonius Monk, James Brown and Roland Kirk on guitar $1000. 3/4-size Ibanez -- Baby 335 -- passed around Berkeley for years. $550 Gibson's big-time loser: ES 325. This was a 70s dog, but in actuality, it was a revival of a 60s USA Epiphone Riviera with hot Firebird mini-humbuckers $800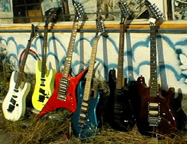 Nasty, pointy, pud-pullers!
We call 'em Krammits" -- heavy metal sticks that screech and squeal and make god-awful noises. They should have been banned at the door, but they were such good quality guitars, we had to offer the welcome mat. There's probably 30 of these things hiding in the Subway inventory -- and we hate 'em. Crushed red pearl Night Swan, short (Gibson)-scale, ebony fretboard -- a top-quality instrument. Three humbucking blue rock star "thang" with a star on it -- so some dweeb named Ricky Sanborn would remember who he was. Red Focus 5000 -- wanted to be the pointiest guitar on Planet Earth; it could be a gruesome marshall arts weapon. Whoever designed this should be in a padded cell. Bile yellow, black and white jerk-and-spurt models. These have USA parts (I actually think the necks and bodies were made in Canada). Don't let me look at these things another day! from $300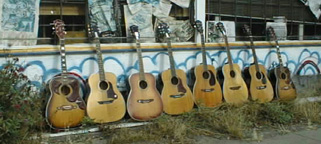 Harmony Herd
Here's the largest herd of Sovereigns on Planet EARTH! Variations from Regal, Silvertone, Harmony and Harmony Sovereign Deluxe. For years we called these "the poor man's D-18". These are all solid woods and straight-braced. The neck reset and pin bridge greatly improve their sound; the Schaller tuning machines keep them in tune. A great value for 60s folk guitars at $400 each.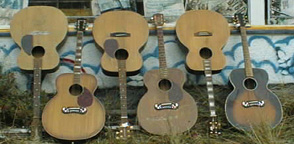 Kay 200s
Quite a fleet of Kay 200s from the 50s and 60s. Solid spruce tops, big figure-8 bodies, 26" scale-length. These selections are from Sherwood, Silvertone, Orpheum and Kay. They're straight-braced, and 17" wide (although they did make some that were X-braced). They have a rich, thick sound. Schaller or Gotoh gears. You can be Elvis in Y2Kay for $400.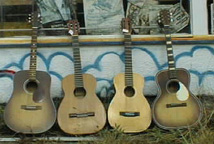 Proletarian Lineup
Proletarian specials from Subway's 50s and 60s bargains. Kay D-size with neck reset and pin bridge, $160. All solid wood Harmony Classic with surprisingly good tone, $200. 0-size Harmony with neck reset and pin bridge. A finger-picking delight, $150. 000 Kay, $150.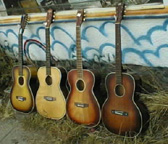 Quartet of 000s
Lead Junior Stella 12 $250; Silvertone and Stella 6-strings $175; Stroboscopic-bound Oahu $250. All have had neck resets and pin bridges. We have lots of these. These are the proletarian end of the Kay and Harmony factories.






10-string solid spruce top Quartro-thang
Don't know what to do with it, but we've got a bunch of 'em. There's actually some Portugese instrument like this. $175.






Blues Guitar
Got this from an ooold elder blues guy named "Gregory" (he hates that name). Its an old Kraftsman. Plays and sounds great. $275.






Larivee
Beautiful Canadian pud-puller's guitar. It was so well-made, I couldn't resist, even though we don't generally allow stuff like this in the store. These were a closeout: carved flame maple top, ebony fretboard. All the high-tech wanking accoutrements. Neck through. We've got 5 of these: metallic charcoal, white, red, black and rubyburst (shown). We might de-wankify them by losing the locking stuff and adding a Wilkinson bridge. These thing probably list for over $1000. $400.




* Fender® Stratocaster is a registered trademark of the Fender Musical Instrument Corporation.


---

MORE TREATS
---
Ordering Merchandise
I understand your concerns about buying a guitar over the Internet. You can't put your hands on it. You don't know what it'll look like, what it'll sound like, how it will feel. Then there are the issues surrounding shipping anxiety: "Will it arrive undamaged?" "When will it arrive?" "WILL it arrive?" The concerns go on and on: "What's the tracking number?" "Will you ship it today?" "When will you ship it?" "Can I get it tomorrow?"
Here are five key points to put your mind at ease:
Your purchase will definitely arrive in good, undamaged condition AND in a timely manner.


Your purchase is insured against damage in transit.


If you don't like what you've ordered, you can return it within two weeks of purchase.


You have the option of a full CASH refund or a trade-in for something else you like. All you pay is the return shipping, which amounts to about $10 within the Continental United States.


You just can't lose.
Policy
"Experience Ecstacy" for a week with your new guitar. If the instrument is not what you expected, then expect a full refund on merchandise returned in the condition of purchase. Fatdog considers this the backbone of good biz (and happy customers).


NOTE: There is no refund for shipping.

Trade-ins are seriously considered at a high value.

Subway Guitars
1800 Cedar Street
Berkeley, California 94703

(510) 841-4106
noon til six, Monday thru Saturday
Pacific Time



HOME